Red Curry Kuri Squash Soup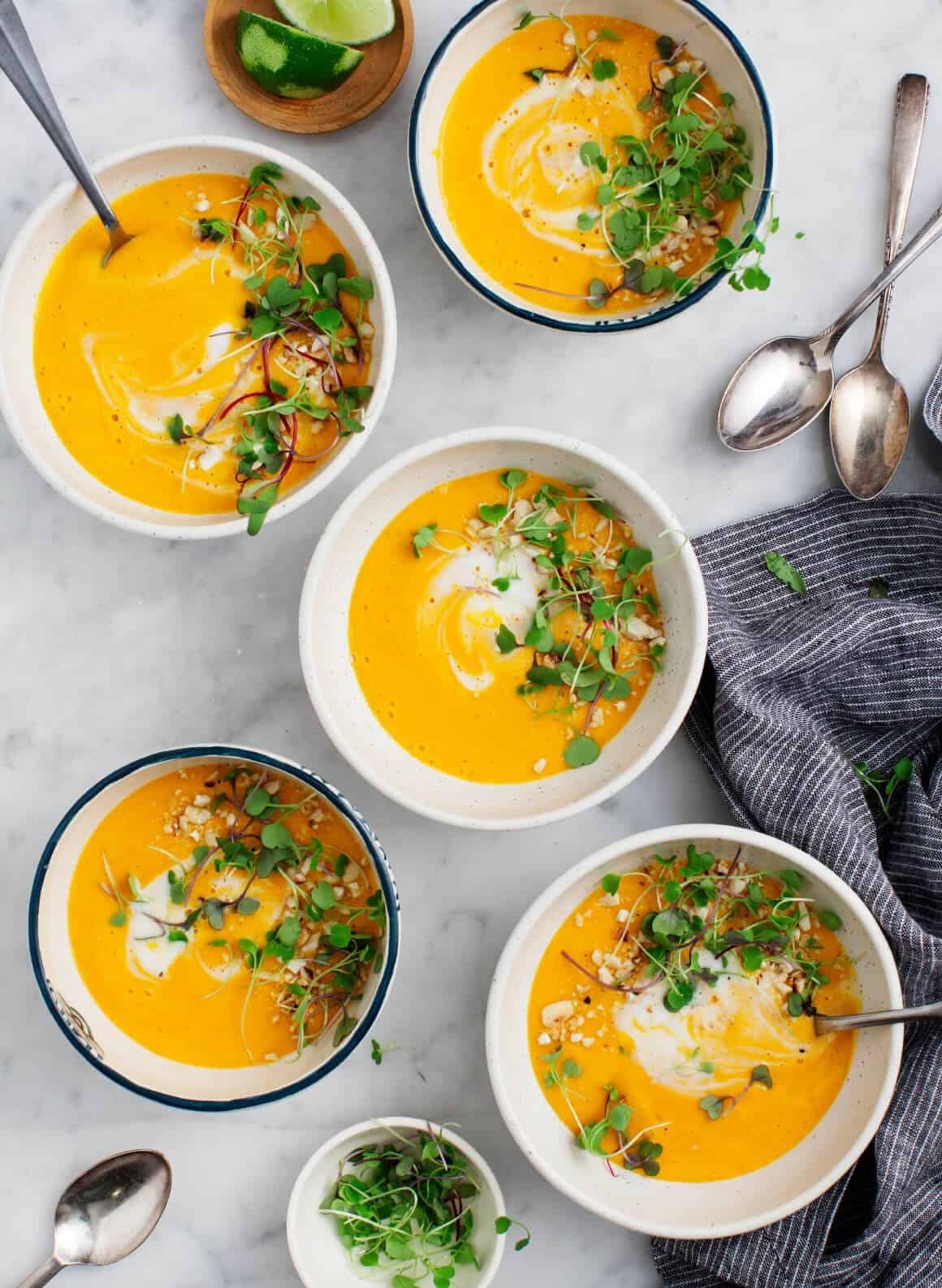 1 medium red kuri (or butternut) squash, about 3 pounds
2 shallots, sliced in half
3 garlic cloves, unpeeled
1 (14-ounce) can coconut milk, reserve ¼ cup for garnish
1 stalk lemongrass (or 1 tablespoon lime zest)
2 teaspoons fresh grated ginger
1 tablespoon red curry paste*
1 cup water or vegetable broth, more as needed for consistency
2 tablespoons fresh lime juice
1 tablespoon extra-virgin olive oil
Sea salt and freshly ground black pepper
Reserved coconut milk
Toasted, chopped cashews
Microgreens
Preheat the oven to 400°F and line a large baking sheet with parchment paper. Cut the squash in half lengthwise and scrape out the seeds. Place the squash and the shallots on the baking sheet, drizzle with olive oil and pinches of salt and pepper, and turn cut-side down. Wrap the whole garlic cloves in foil and place on the sheet. Roast for 40 to 50 minutes, or until the squash is tender and the shallots are nicely browned.
Prepare the lemongrass by cutting off the root end and the tough upper stem of the stalk. Smash the stalk with a rolling pin to loosen the layers then pull off the thick outer layers and dice the inner, tender parts. Measure out 1 tablespoon chopped lemongrass.
Scoop the flesh from the squash and unwrap and peel the garlic. In a blender, place the squash, shallots, garlic, coconut milk, lemongrass, ginger, curry paste, and a few generous pinches of salt and pepper. Blend until creamy. Add the water or broth, lime juice, and olive oil and blend again. Add more water or broth to thin the soup to your desired consistency. Taste and adjust seasonings with more salt, pepper, and lime juice.
Ladle the soup into bowls and garnish with the coconut milk, toasted cashews, and microgreens.
*Curry pastes can vary considerably in heat levels. If you're sensitive to spice, start with less paste.
Recipe by
Love and Lemons
at https://www.loveandlemons.com/red-curry-kuri-squash-soup/