Alanna's Pumpkin Cranberry Nut & Seed Loaf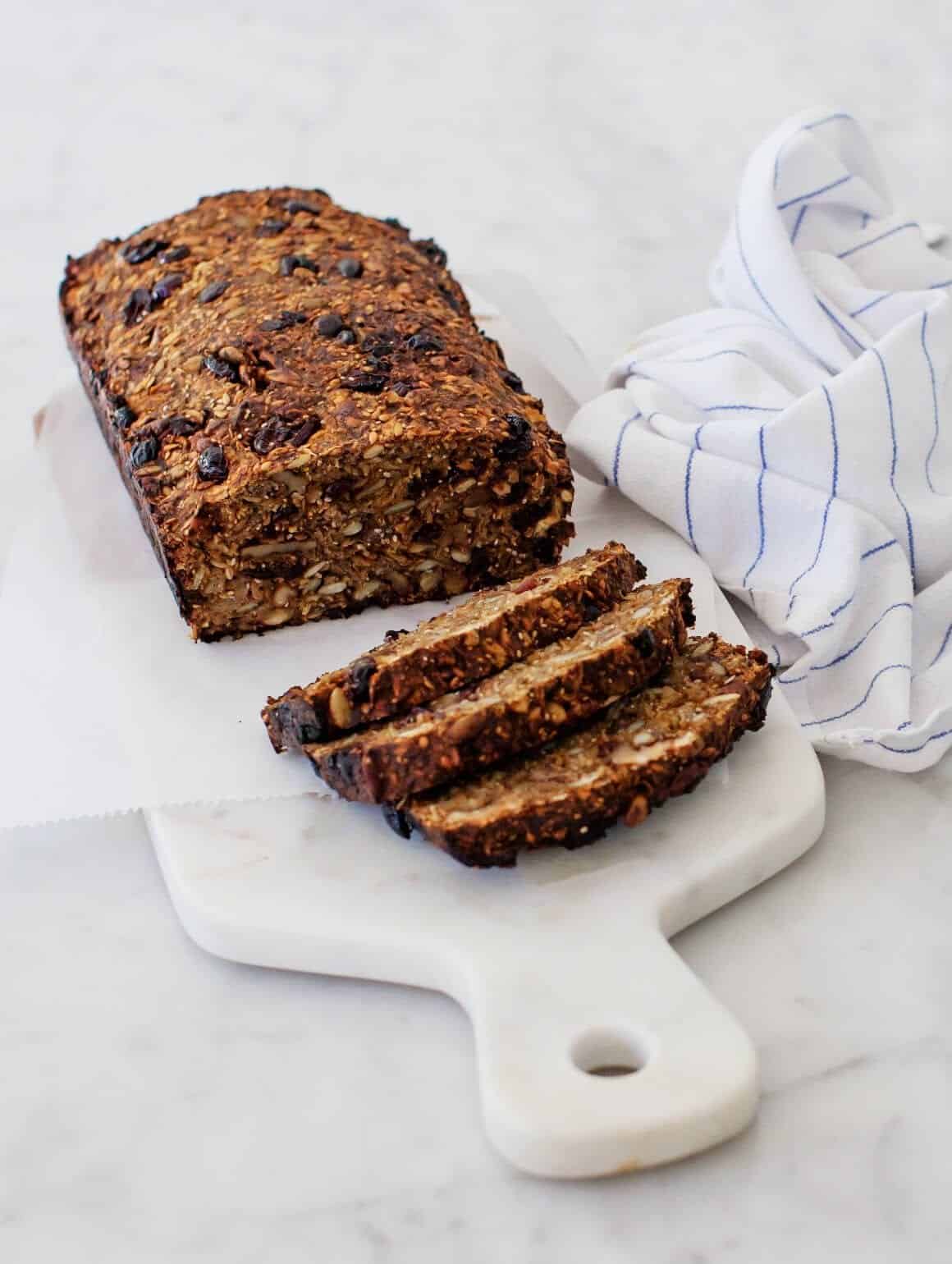 1½ cups (175 g) raw walnut halves
1 cup (140 g) raw pumpkin seeds (pepitas)
2¾ cups (250 g) GF old-fashioned rolled oats
1 cup (145g) dried cranberries
½ cup (90 g) flaxseeds
⅓ cup (30 g) psyllium husks
¼ cup (40 g) chia seeds
2 tsp (9 g) fine sea salt
¾ tsp ground cinnamon
½ tsp freshly grated nutmeg
1 (15-oz) can unsweetened pumpkin puree
1 cup water (235 ml) water
¼ cup (60 ml) maple syrup
¼ cup (60 ml) sunflower oil (or light olive oil)
Position a rack in the center of the oven and preheat to 325°F (165°C). Spread the walnuts and pumpkin seeds on a small, rimmed baking sheet and toast until golden and fragrant, shuffling the pan occasionally, 10-15 minutes. Remove from the oven.
Meanwhile, in a large bowl, stir together the oats, cranberries, flaxseeds, psyllium husks, chia seeds, salt, cinnamon and nutmeg to combine. Stir in the hot walnuts and pumpkin seeds. Add the pumpkin puree, water, maple syrup and sunflower oil and stir well with a sturdy wooden spoon or your hands to make sure the "dough" is moistened throughout and evenly distributed.
Line a 9 by 5-inch loaf pan on all sides with parchment paper and scrape the dough into the prepared pan, packing it in and rounding it slightly on top; it won't rise in the oven. Cover tightly with a piece of plastic wrap and let sit at room temperature for 2-8 hours.
When ready to bake, preheat the oven to 400°F. Bake the loaf for 1 hour and 15 minutes; it will be deeply bronzed on top and feel firm to the touch. (Note: the first time I made this I took it out a little early - don't do that - let it cook the whole time even thought the outside will be very dark). Let cool completely, at least 2 hours. The bread is best sliced fairly thinly and toasted well. It will keep, refrigerated airtight, for up to 2 weeks.
Recipe by
Love and Lemons
at https://www.loveandlemons.com/alannas-pumpkin-cranberry-nut-seed-loaf/