White Bean Tomato Mushroom Soup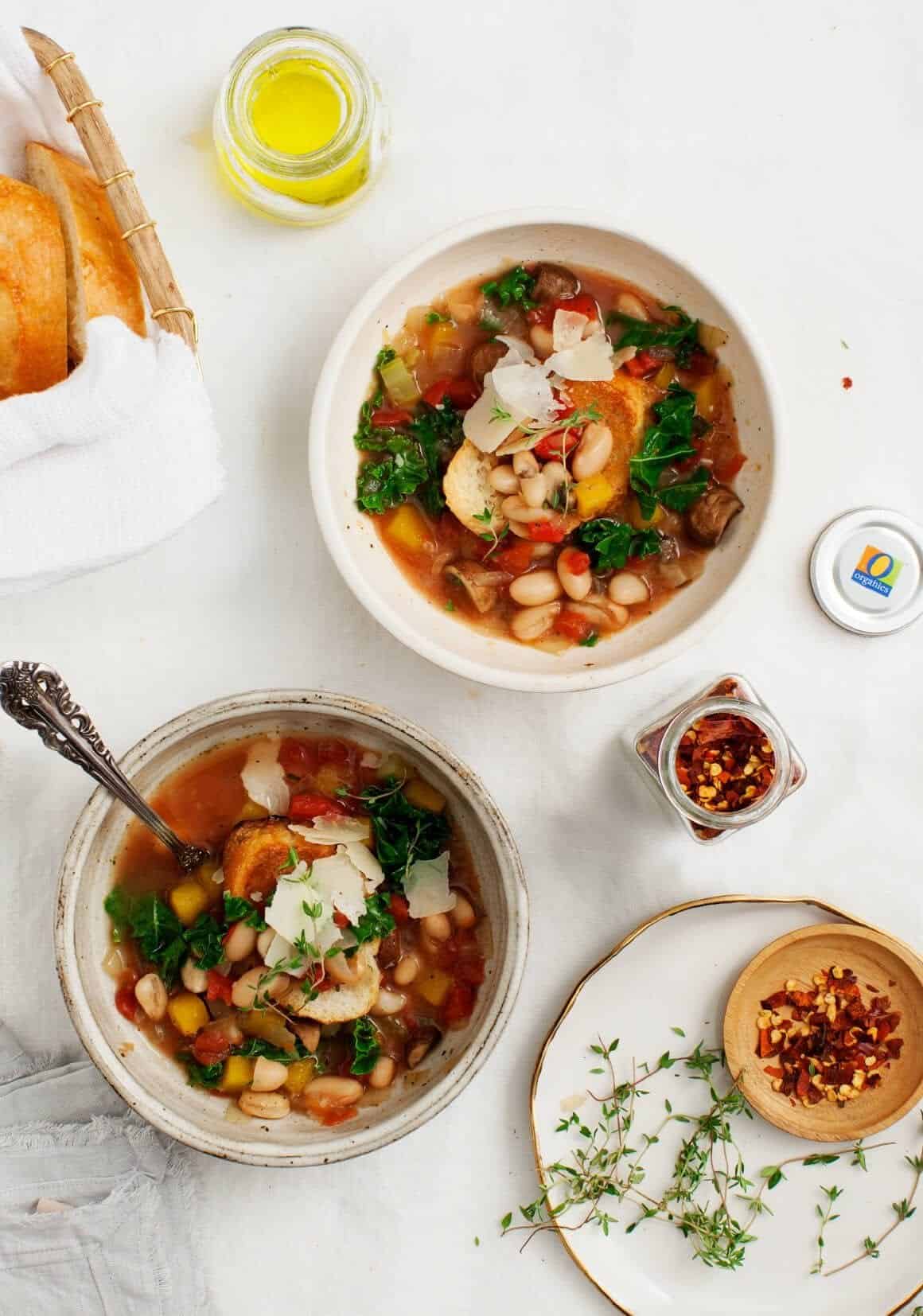 2 tablespoons extra-virgin olive oil
1 medium yellow onion, chopped
2 cups (¼" diced) butternut squash
2 celery ribs, diced
8 ounces cremini mushrooms, chopped
3 garlic cloves, minced
2 fresh bay leaves
5 fresh sage leaves, chopped
2 teaspoons Herbes de Provence
¼ cup dry white wine
4 cups O Organics Vegetable Broth
1 (14-ounce) can O Organics Diced Tomatoes
1 (14-ounce) can O Organics Cannellini Beans
6 fresh thyme sprigs (bundled and tied with string)
2 teaspoons balsamic vinegar
4 to 5 kale leaves, chopped
pecorino cheese, optional, for serving
toasted baguette, optional, for serving
Heat the olive oil in a large pot over medium heat. Add the onion and generous pinches of salt and pepper and cook, stirring occasionally, until soft and lightly browned about 5-8 minutes.
Add the butternut squash and celery and stir.
Add the mushrooms, another pinch of salt and a few grinds of pepper, and cook until soft, about 8-10 minutes.
Add the garlic, bay leaves, sage and Herbes de Provence. Stir, then add the wine and stir again. Add the vegetable broth, tomatoes, beans and bundled thyme sprigs. Simmer for 30 minutes, until thickened, stirring occasionally. Remove the thyme stems and bay leaves.
Add the balsamic vinegar. Stir in the chopped kale and cook until wilted, about 5 minutes. Taste and adjust seasonings.
Serve with pecorino cheese and toasted baguette if desired.
To make it vegan: skip the cheese and season with salt, to taste.

To make it gluten free: skip the bread.
Recipe by
Love and Lemons
at https://www.loveandlemons.com/white-bean-tomato-mushroom-soup/