Molly's Cauliflower Shawarma Tacos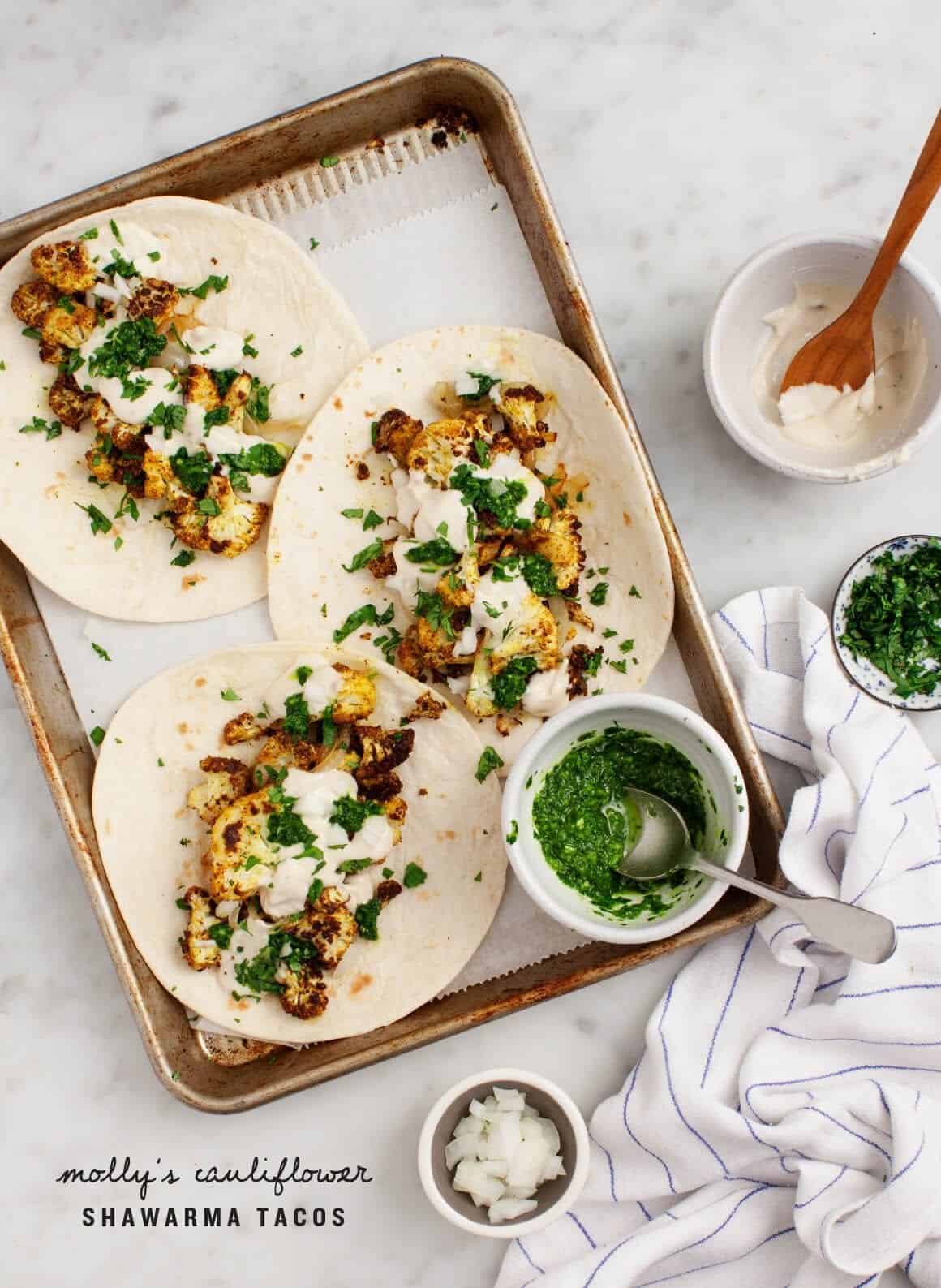 ¼ cup olive oil
½ teaspoon kosher salt
1 tablespoon garam masala
1 tablespoon curry powder
1½ teaspoons vegetable broth base (I skipped this)
1½ pounds cauliflower florets
1 medium onion
2 tablespoons flavorless oil
8 flour tortillas (6-inch)
¼ cup fresh cilantro leaves, finely chopped
¼ cup tahini
3 tablespoons cold water
1 tablespoon lemon juice
kosher salt and black pepper
5 jalapenos (I used 2)
4 cloves garlic
1 cup flat-leaf parsley, coarsely chopped
1 cup cilantro coarsely chopped
1 teaspoon ground cumin
½ teaspoon ground coriander
¼ teaspoon cayenne pepper
½ teaspoon kosher salt
black pepper
¼ cup olive oil
Make the Tahini Sauce: In a small bowl, mix together the tahini, water and lemon juice until the mixture thickens. Season with salt and pepper to taste.
Make the Zhoug: In a food processor, combine the jalapeños, garlic, parsley, cilantro, cumin, coriander, cayenne, salt, a few turns of pepper, and the olive oil and blend until it's the consistency of pesto, adding more olive oil if desired. Store in the fridge for up to 2 days or spoon into ice cube trays, freeze, and thaw as needed.
Make the tacos: Preheat the oven to 450°F. Line a baking sheet with parchment paper.
In a large bowl, mix together the olive oil, salt, garam masala, curry powder, and broth base. Add the cauliflower and toss to coat. Spread the cauliflower onto the baking sheet and bake, stirring occasionally, until browned and crispy, 30 to 40 minutes.
Thinly slice three-quarters of the onion. Dice the remaining one-quarter and set aside for topping. In a skillet, heat the oil over medium-high heat. Add the sliced onion and cook, stirring occasionally, until browned, about 10 minutes.
Warm the tortillas. Assemble the tacos with cauliflower, fried onions, tahini sauce, raw chopped onion, cllantro and zhoug (if using).
Recipe by
Love and Lemons
at https://www.loveandlemons.com/mollys-cauliflower-shawarma-tacos/