Chana Masala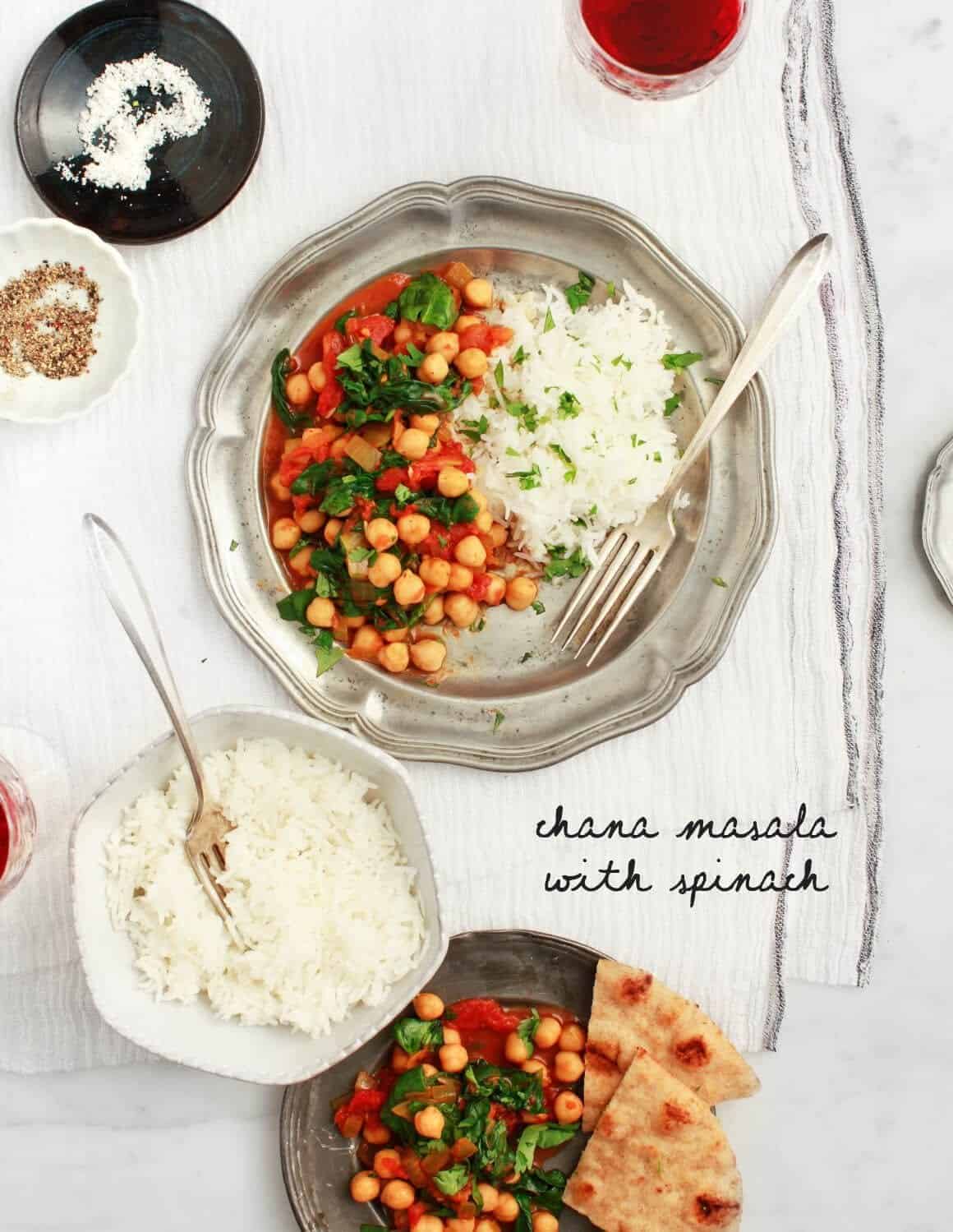 1½ tablespoons extra-virgin olive oil
1 large yellow onion, diced
1 teaspoon whole cumin seed
1 teaspoon ground coriander
1 teaspoon ground turmeric
3 cardamom pods, minced (discard the outer shells)
3 garlic cloves, minced
1 teaspoon garam masala
1 teaspoon fresh ginger
¼ teaspoon cayenne pepper, optional
1 (28-ounce) can diced tomatoes
2 (14-ounce) cans chickpeas, drained and rinsed, or 3 cups cooked chickpeas
5 to 8 ounces fresh spinach
1 tablespoon lemon juice + 1 tablespoon lime juice, more to taste
1 cup fresh cilantro, chopped
Sea salt and freshly ground black pepper
Heat the oil in a large pan over medium-low heat. Add the onion and generous pinches of salt and pepper and cook until browned and very soft, stirring occasionally, about 8 to 10 minutes. Add the cumin seeds halfway through.
Add the coriander, turmeric, cardamom, garlic, garam masala, ginger and cayenne pepper, if using, and cook until fragrant, 30 to 60 seconds. Add ¼ cup of water and scrape the bits from the bottom of the pan. Add the tomatoes and another few pinches of salt. Stir and bring to a low simmer so that it's bubbling just a bit. Cook on medium heat to thicken, about 6 minutes.
Add the chickpeas, ¼ cup more water, and another pinch of salt, and let cook, stirring occasionally, until the liquid is reduced and it's a thick stew, about 10 to 12 minutes.
Stir in the spinach until wilted. Remove from the heat.
Add the lemon/lime juice. Taste and adjust seasonings, adding more lemon or lime if desired. Add the fresh cilantro just before serving. Serve with steamed rice and naan, if desired.