Pumpkin Chocolate Chip Cookies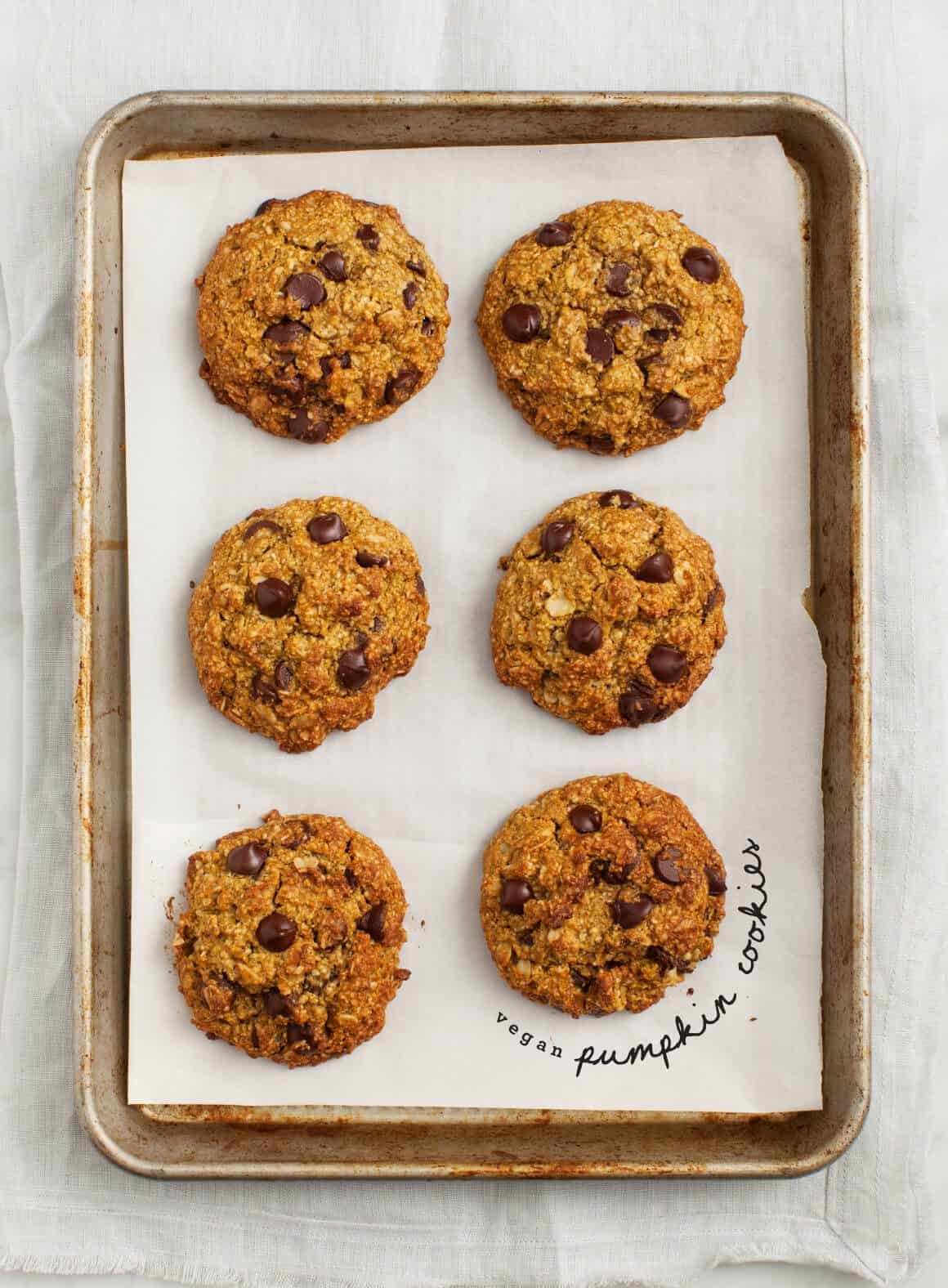 Recipe type:
Snack, dessert
Serves:
12 to 15 large cookies
1 tablespoon ground flaxseed meal
2½ tablespoons warm water
2 cups oat flour
1 cup gluten free whole rolled oats
1 teaspoon baking soda
1 teaspoon cinnamon
½ teaspoon sea salt
¼ teaspoon nutmeg
¾ cup canned pumpkin puree
¾ cup cane sugar
½ cup melted warm coconut oil
1 teaspoon vanilla extract
1 cup chocolate chips* (see note)
Preheat the oven to 375°F/190°C and line a large baking sheet with parchment paper.
In a small bowl, combine the flaxseed and water. Stir and set aside to thicken.
Make the oat flour: use a food processor or a blender to process 2¼ cups rolled oats into a fine flour and measure out 2 cups.
In a large bowl, combine the oat flour, whole rolled oats, baking soda, cinnamon, salt and nutmeg.
In a medium bowl, whisk together the pumpkin, sugar, coconut oil and vanilla. Add the thickened flaxseed mixture and stir to incorporate.
Add the pumpkin mixture to the bowl of dry ingredients and stir to combine. Fold in the chocolate chips. Use a large cookie scoop to drop dollops of the cookie dough onto the baking sheet.
Bake for 16 to 19 minutes or until the tops have browned (don't under-bake). Let the cookies cool on the baking sheet for 5 minutes before cooling completely on a wire rack. When cookies are completely cool, they can be stored in an airtight container or frozen.
*Be sure to look for vegan chocolate chips if you need this recipe to be vegan. I like the Sunspire and Enjoy Life brands.

I use Bob's Red Mill's Certified Gluten Free Rolled Oats.
Recipe by
Love and Lemons
at https://www.loveandlemons.com/pumpkin-oat-chocolate-chip-cookies/