Heidi's Spicy Green Soup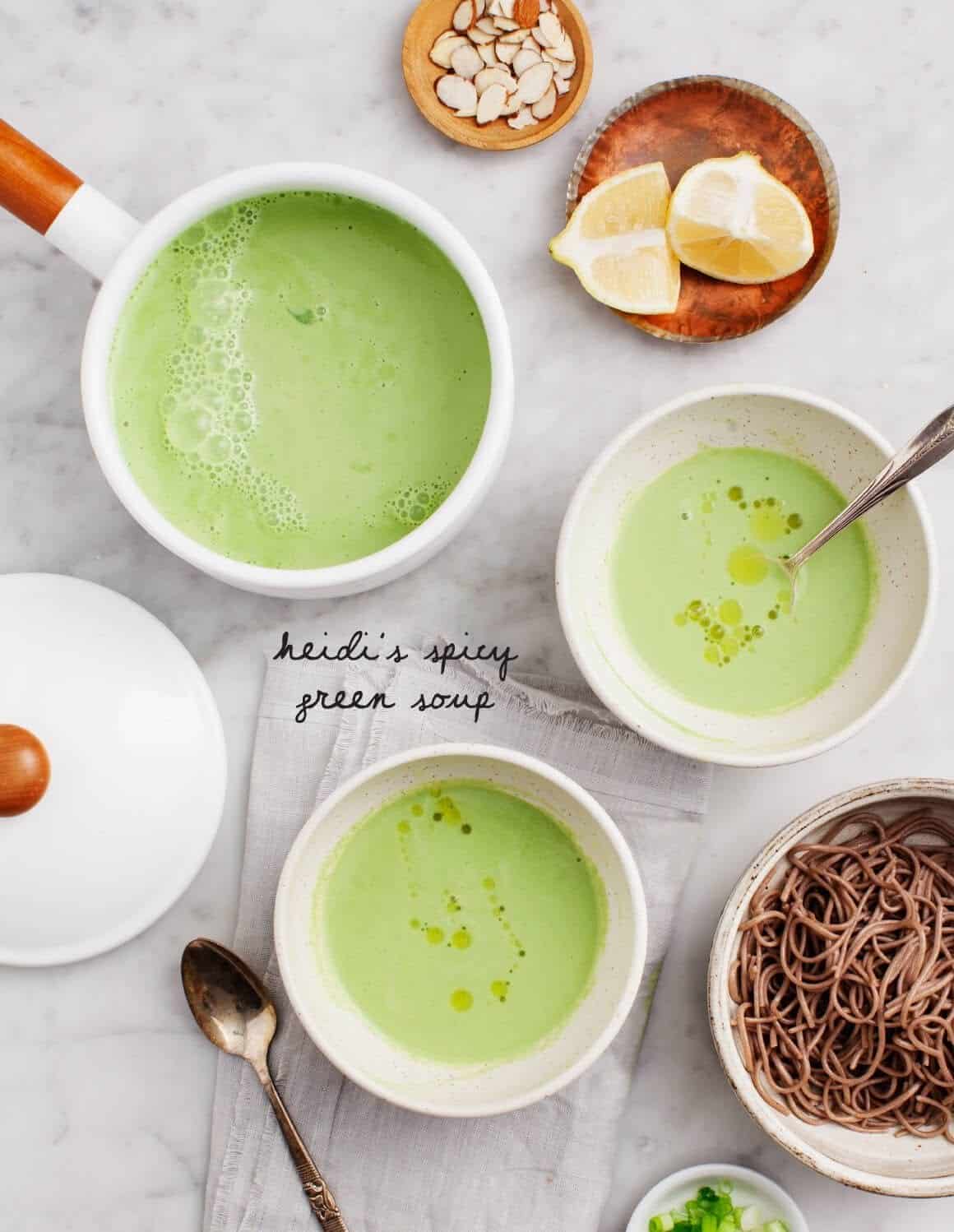 4 cups water
3 medium garlic cloves
1¼ cup firmly packed basil leaves
1¼ cup firmly packed cilantro leaves and stems
¼ cup lightly packed mint leaves
a thick 2-inch piece of ginger, peeled & sliced
3 tablespoons extra-virgin olive oil
2 small serrano chiles, stemmed (I used 1)
½ cup sliced almonds
1 teaspoon sea salt
Zest of 1 lemon
1 tablespoon runny honey (sub maple if vegan)
Lemon wedges, for serving
poached eggs, white beans, soba noodles, toasted almonds, shaved green onions, roasted mushrooms or other roasted vegetables
In a saucepan, bring the water just to a simmer.
As the water heats, combine the garlic, basil, cilantro, mint, ginger, olive oil, chiles, almonds, salt, lemon zest, and honey in a blender or food processor. Process for a couple of minutes, thinning with a couple of tablespoons of cold water and scraping down the sides along the way, until the mixture becomes as smooth as possible. Taste and adjust to your liking the paste should taste strong and spicy.
Just before serving, add the paste to the simmering water and stir well. Dial back the heat at this point; you don't want it to return to a simmer, but you do want it very hot. Taste and adjust the seasoning - a bit more salt or a squeeze of lemon juice. Ladle into bowls with your chosen accompaniment, and enjoy on its own or topped with any of the suggested toppings.