Green Chile Peach Tostadas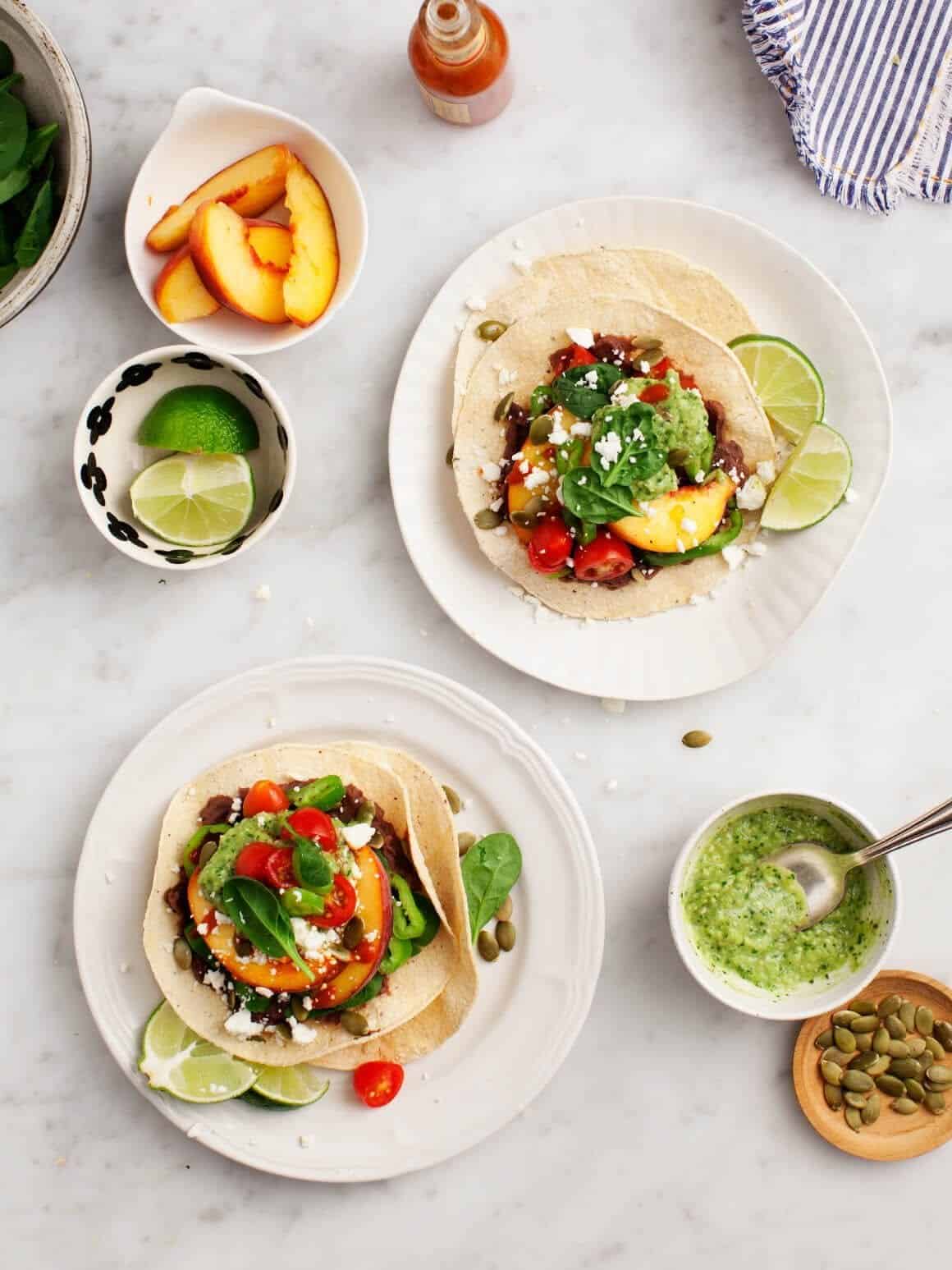 8 corn tortillas
olive oil cooking spray
1 (14-ounce) can refried black beans
4 ripe peaches, pitted and sliced
1 cup halved cherry or grape tomatoes
¼ cup pepitas, toasted
½ cup cotija cheese, optional
lime slices, for serving
extra-virgin olive oil, for drizzling
sea salt
5 tomatillos
½ yellow onion
2 garlic cloves, wrapped in foil
2 hatch green chiles
¼ cup pepitas, toasted
1 small avocado
big handful of spinach
juice of 1 lime
extra-virgin olive oil, for drizzling
drizzle of honey, optional
sea salt and freshly ground black pepper
Preheat the oven to 450°F and line a baking sheet with parchment paper.
Make the Creamy Green Chili Sauce: Remove the husks from the tomatillos and rinse under cool water to remove the stickiness. Place the tomatillos, onion and green chiles on the baking sheet and drizzle with olive oil. Add a generous pinch of salt and toss. Place the wrapped garlic on the pan. Roast for 15 minutes or until the tomatillos are soft and the skin of the green chiles has lightly blackened. (Alternatively, you can char the vegetables on the grill.) Remove from the oven and let cool slightly. Once the green chiles are cool to the touch, remove the stems, ribbing and any loose skin. Peel the garlic.
In a food processor, combine the cooked tomatillos, onion, green chiles, garlic, and a few generous pinches of salt and pepper. Pulse, then add the pepitas, avocado, spinach and lime juice. Blend until smooth and taste. If it's too tart, add a drizzle of olive oil and honey. Season to taste with salt and pepper. Chill until ready to use.
Place the corn tortillas on a baking sheet and spray each with a little olive oil and sprinkle with a few pinches of salt. Bake until crispy, 10 to 15 minutes, depending on the thickness of the tortillas.
Place the refried beans in a small bowl. If they're not already seasoned, add a drizzle of olive oil and a pinch of salt and stir.
Assemble the tostadas with the refried beans, peaches, tomatoes, and generous dollops of the Creamy Green Chile Sauce. Sprinkle with the pepitas and cotija cheese, if using. Serve with lime slices on the side.
If you can't find fresh hatch green chiles, you can use canned (start with 2 tablespoons and add more to taste), or you can skip them.

To make these vegan, skip the cheese and the honey.
Recipe by
Love and Lemons
at https://www.loveandlemons.com/peach-tostadas-saveur-nomination/