Vegan Cobb Salad with Coconut "Bacon"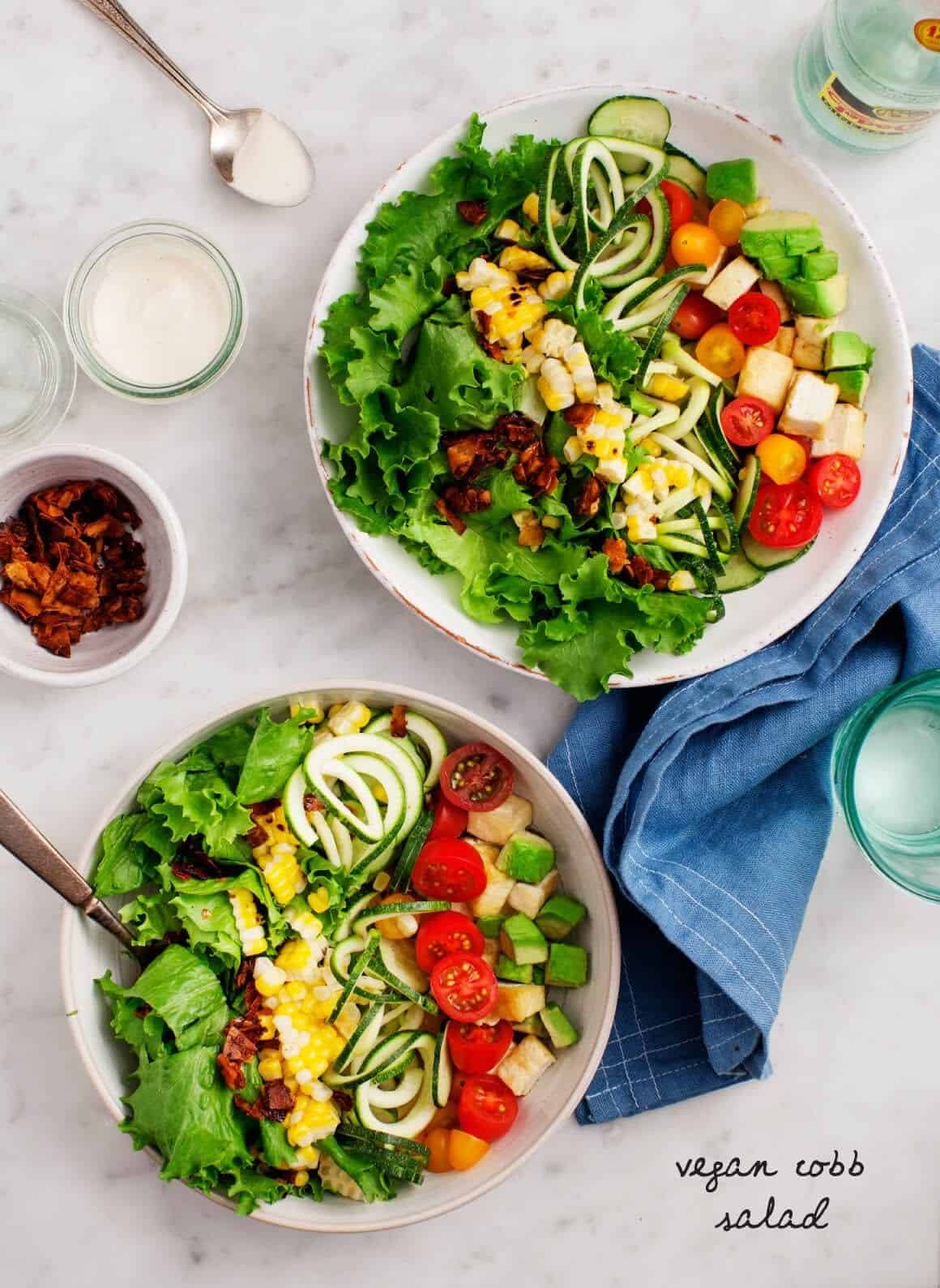 1 small head romaine lettuce, chopped
½ cup halved cherry tomatoes
1 small cucumber, thinly sliced
1 medium zucchini, spiralized or peeled into ribbons
1 ear of corn, grilled, kernels sliced off cobb
1 avocado, pitted and diced
12 to 14 ounces extra-firm tofu, patted dry and cubed
½ cup coconut "bacon" (recipe below)
1½ cups unsweetened coconut flakes
1½ tablespoons tamari
scant 1 tablespoon maple syrup
½ teaspoon smoked paprika
1 cup raw cashews, soaked in water 3 to 4 hours, preferably overnight, drained and rinsed
½ to ¾ cups fresh water
2 tablespoons fresh lemon juice
¼ teaspoon onion powder
¼ teaspoon garlic powder
¼ to ½ teaspoon sea salt
In a blender, combine the cashews, ½ cup water, lemon juice, onion powder, garlic powder and ¼ teaspoon of sea salt. Blend until creamy, adding more water if necessary. Taste and season with additional salt as needed. Chill until ready to use.
Preheat the oven to 350°F and line a baking sheet with parchment paper. Place the coconut flakes along with the tamari, maple syrup and smoked paprika on the pan and toss gently to coat. Spread in a thin layer on the pan and bake until dark golden brown and slightly crispy, about 10 minutes.
Increase the oven temperature to 400°F and line a baking sheet with parchment paper. Place the tofu cubes on the pan and toss with a drizzle of olive oil and generous pinches of salt. Bake for 15 to 17 minutes or until golden brown around the edges.
In a serving bowl, assemble the salad with the romaine, cherry tomatoes, cucumber, zucchini, corn, avocado and tofu. Top with the coconut "bacon" and serve with the dressing on the side. Store any extra dressing in a sealed container in the fridge.
Recipe by
Love and Lemons
at https://www.loveandlemons.com/vegan-cobb-salad-w-coconut-bacon/