Cauliflower Rice Vegan Burrito Bowl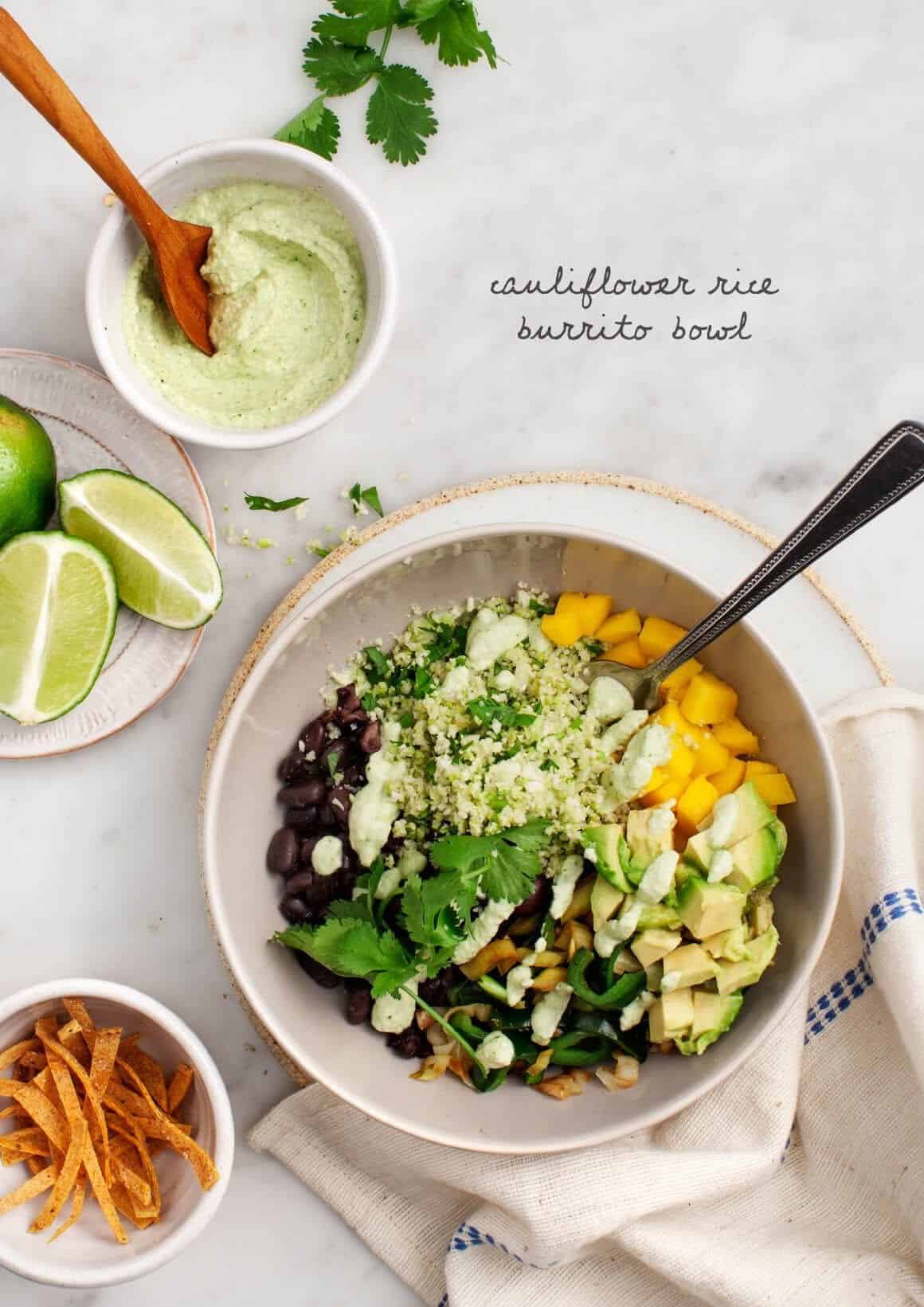 3 corn tortillas, sliced into strips
3 cups loose-packed cauliflower florets
2 large leeks, white and light green parts, rinsed well & sliced
2 poblano peppers, stem, seeds and ribs removed, thinly sliced
1 garlic clove, minced
½ teaspoon dried Mexican oregano
1 cup cooked black beans, drained and rinsed
2 ripe mangoes, cubed
1 avocado, cubed
½ cup chopped cilantro
1 lime, sliced into wedges
Extra-virgin olive oil
Sea salt and freshly ground black pepper
1 cup cashews, soaked 3 to 4 hours, preferably overnight, drained and rinsed
2 tablespoons canned mild green chiles, more if desired
1 scallion, chopped
⅓ cup cilantro, coarsely chopped
1 garlic clove
Juice of 1 lime
½ cup fresh water, plus more as needed
Sea salt and freshly ground black pepper
Make the cashew cream. In a blender, combine the cashews, green chiles, scallion, cilantro, garlic, lime juice, water, and a pinch of salt and pepper. Blend well and season to taste. Add additional water if necessary to get your blender blade moving. Chill until ready to use.
Preheat the oven to 350°F and line a baking sheet with parchment paper. Place the tortilla strips on the baking sheet and toss with a drizzle of olive oil and a pinch of salt. Bake for 10 minutes or until crispy. Remove from the oven and set aside.
Make sure your cauliflower is fully dry. Place the cauliflower in a food processor and pulse until it has the texture of rice. Work in batches if necessary and don't over process or it will get mushy.
In a large skillet, heat 1 teaspoon of olive oil over medium heat. Add the cauliflower and sauté until heated through, about 5 minutes. Season with salt, pepper, and a squeeze of lime juice to help remove any bitterness from the raw cauliflower. Skip this step if you prefer raw cauliflower rice. Remove from the skillet and portion the "rice" into 4 serving bowls.
In a medium skillet, heat 1 teaspoon of olive oil over medium heat. Sauté the leeks and poblanos with generous pinches of salt and pepper. Cook until soft for 7 to 10 minutes, and then add the minced garlic and oregano. Stir, cook for 1 minute, then add a squeeze of lime and remove from heat. Distribute among the bowls.
To the bowls add the black beans, mango, avocado, and cilantro. Top with the crispy tortilla strips and serve with the green sauce and extra lime wedges.
Other vegetables that would be good here: chopped tomato, grilled corn, chicken or baked tofu, and roasted sweet potatoes.

If raw cauliflower is too veggie for you, mix the cauliflower "rice" with equal parts cooked rice or quinoa.
Recipe by
Love and Lemons
at https://www.loveandlemons.com/cauliflower-rice-vegan-burrito-bowl/