Roasted Artichoke Avocado Toast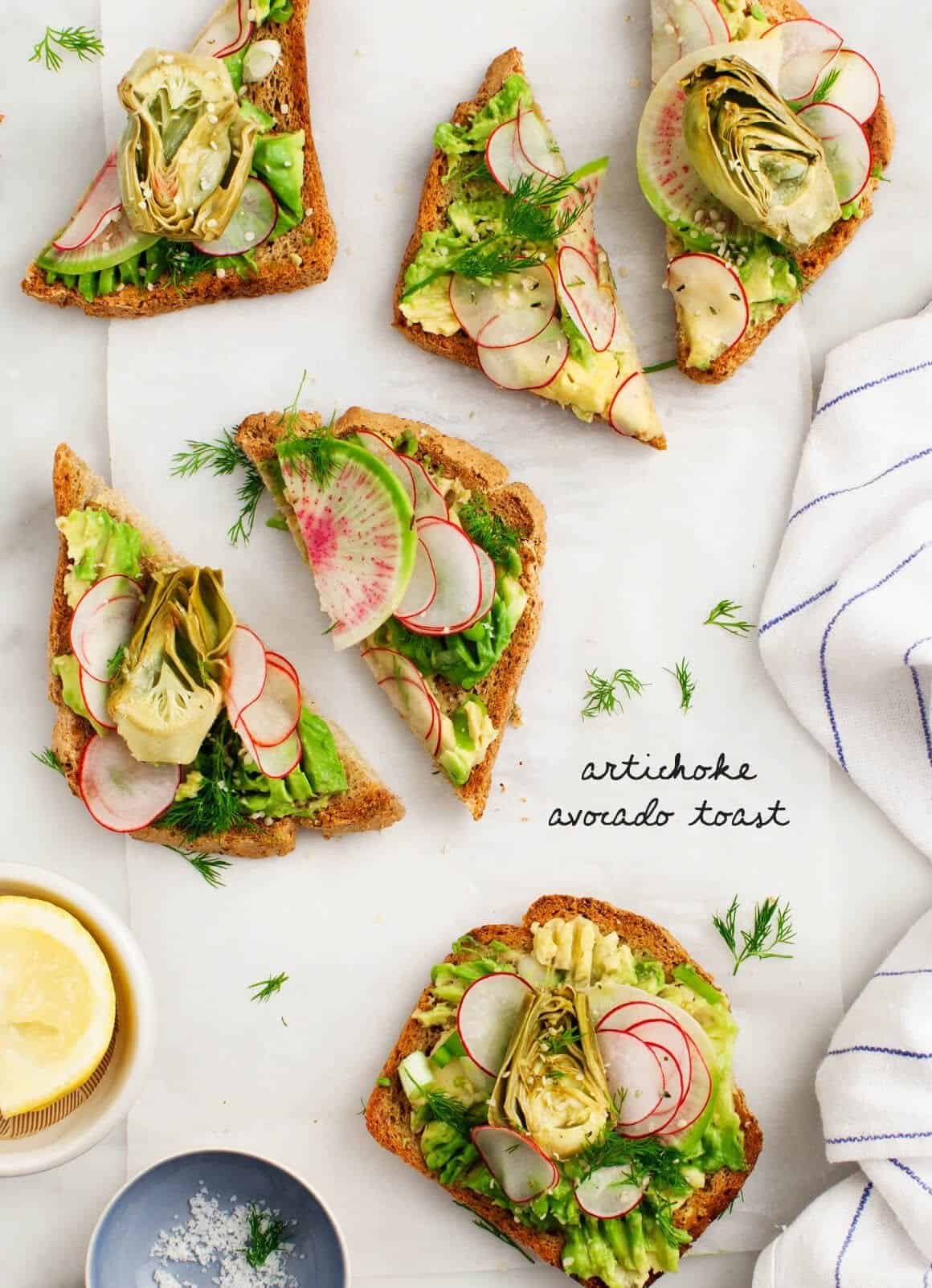 1 lemon
4-6 fresh baby artichokes
1 tablespoon extra-virgin olive oil, plus more for drizzling
4 slices whole-grain bread (*see note)
½ small garlic clove
1 small avocado
1 scallion, diced
2 red radishes and/or 1 small watermelon radish, thinly sliced
2 tablespoons chopped dill
1 tablespoon hemp seeds, optional
sea salt and freshly ground black pepper
Fill a medium bowl with water and add the juice of ¼ of the lemon. Slice the rest of the lemon into wedges. Reserve one wedge for later, and add the remaining lemon wedges to the water. Transfer the artichokes to the lemon water as you work. Cut off the top quarter of the artichokes, about 1 inch. Remove and discard the first 3 to 4 layers of dark green outer leaves. Trim the stems to ½ inch, then use a paring knife to peel away the woody part of the stems. Slice the artichokes in half lengthwise. Use a small spoon to remove the fuzzy choke from each half. Leave the artichokes in the lemon water until you're ready to use them.
Preheat the oven to 375°F. Brush a medium baking pan with ½ tablespoon of olive oil. Drain the artichokes and lemons, then add them to the pan with the remaining ½ tablespoon of olive oil and generous pinches of salt and pepper. Gently toss with your hands to coat evenly. Cover with foil and bake 20 to 30 minutes, or until the leaves are tender and the cut sides are nicely browned.
Meanwhile, place the bread on a baking sheet and drizzle with olive oil. Bake for 10 to 12 minutes, or until toasted. Remove from the oven and rub each piece with the cut side of the garlic clove.
Slice the avocado in half lengthwise and remove the pit. While the avocado is still in its shell, slice the flesh of both halves horizontally and vertically into cubes. Use the remaining lemon wedge to squeeze juice on each half and top with a pinch of salt. Scoop the seasoned avocado onto the toasts and mash it with the back of a fork. Top the toasts with the scallions, 1 or 2 artichoke halves, sliced radishes, dill and hemp seeds, if desired. Season to taste with salt and serve with the roasted lemons.
Recipe by
Love and Lemons
at https://www.loveandlemons.com/artichoke-avocado-toast/