Gluten-Free Vegan Scones with Raspberries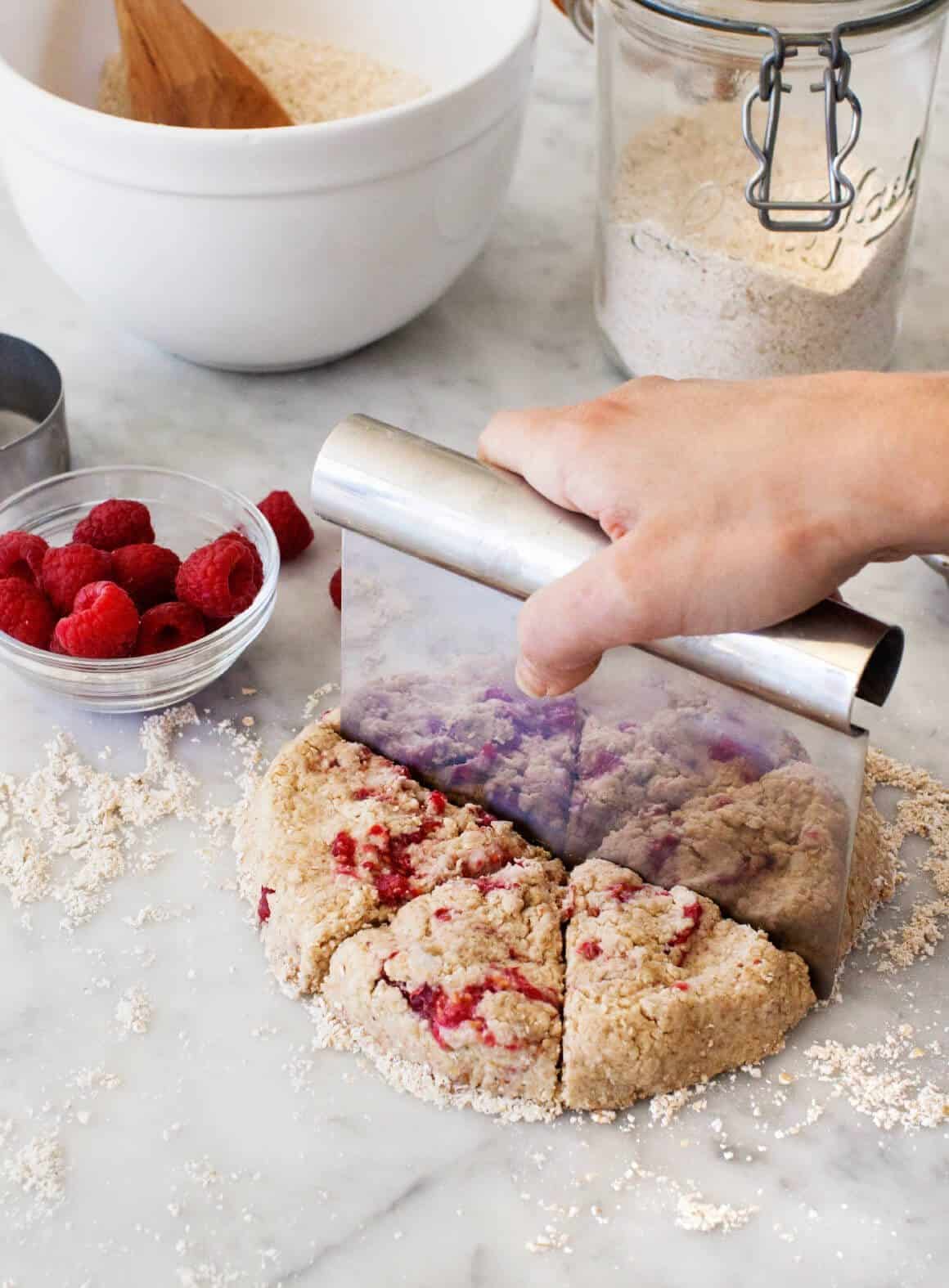 Recipe type:
Breakfast, snack
3 cups gluten-free whole rolled oats (or 2 cups oat flour + ½ cup for dusting)*
½ cup coconut flour
¼ cup + 2 tablespoons cane sugar
1 tablespoon baking powder
1 teaspoon sea salt
¼ cup + 2 tablespoons chilled coconut oil
1 cup cold almond milk
⅔ cup raspberries, sliced in half
Preheat the oven to 400°F and line a large baking sheet with parchment paper.
In a small bowl, stir together the powdered sugar and almond milk to make the glaze. Set aside.
Using a food processor or a blender, process the whole rolled oats into a fine flour and measure out 2 level cups. Reserve the remaining flour for dusting.
In a large bowl, stir together the oat flour, coconut flour, sugar, baking powder, and salt. Cut in the chilled coconut oil using a pastry cutter or fork until the mixture resembles coarse crumbs. You can also use a food processor for this step, if you prefer. Add the cold almond milk and stir to incorporate.
Turn the dough out onto a floured surface and knead gently several times, incorporating more flour if needed. Separate the dough into two halves. Working with one half at a time, pat the dough down and place ⅓ cup of the raspberries on one side of the dough. Fold the other side of the dough over the raspberries and press gently so that some raspberries show through. Shape the dough into a 1" thick round and slice into 6 triangles. Transfer the scones to the baking sheet. Repeat with the second half of dough.
Bake for 12 to 15 minutes or until golden brown. Remove the scones from the oven and cool on the pan for 10 minutes before transferring to a wire rack to finish cooling. When they are completely cool, drizzle with the glaze and serve.
This one is best if you make the recipe following the exact instructions. If you swap flours, etc, I can't guarantee the results, thanks!
Recipe by
Love and Lemons
at https://www.loveandlemons.com/vegan-scones/