Shells & Roasted Cauliflower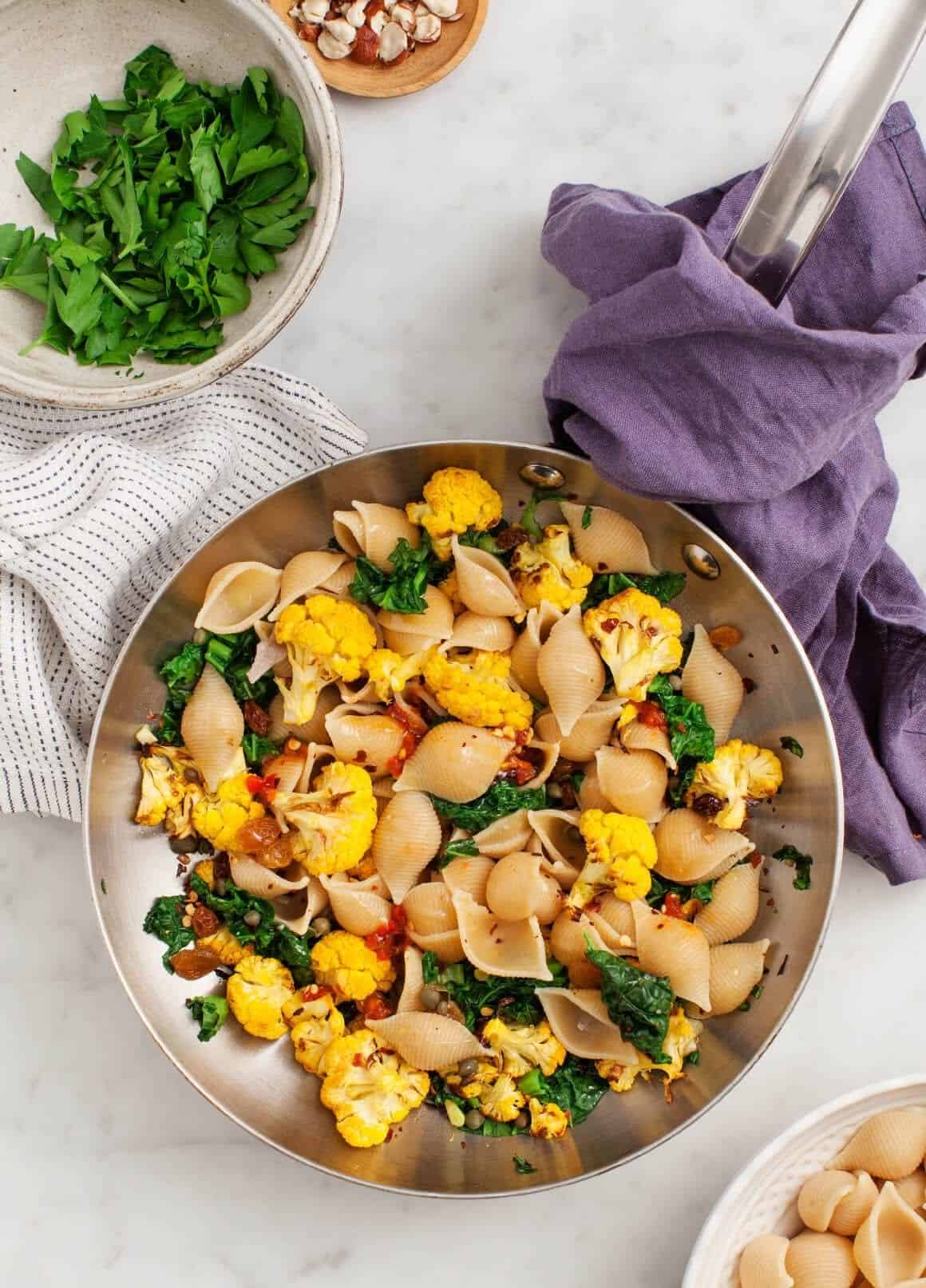 4 to 5 cups small cauliflower florets
2 tablespoons olive oil, plus more for drizzling
1 tablespoon vegan or regular butter
1½ tablespoons sherry vinegar or white wine vinegar
½ teaspoon maple syrup or honey* (see note)
½ teaspoon sambal or red pepper flakes
6 ounces shell pasta
¾ cup reserved pasta water (save this before you drain your pasta)
1 small shallot, thinly sliced
2 garlic cloves, peeled and smashed
4 cups spinach, tatsoi, or swiss chard leaves
¼ cup toasted and chopped hazelnuts or walnuts
1 heaping tablespoon golden raisins
½ cup loose-packed chopped parsley, basil, or tarragon
lemon wedges, for serving
sea salt and freshly ground black pepper
Preheat the oven to 425°F and line a large baking sheet with parchment paper. Place the cauliflower florets on the sheet and toss them with a drizzle of olive oil and pinches of salt and pepper. Roast for 25 minutes or until golden brown around the edges.
In a small bowl, stir together the sherry vinegar, maple syrup, and sambal and set aside.
Bring a large pot of salted water to a boil. Prepare the pasta according to the instructions on the package, cooking until al dente. Reserve ¾ cup pasta water before you drain the pasta. If you like, drizzle the pasta with a little olive oil to keep it from sticking together and set aside.
In a large skillet, heat the oil and butter. Add the shallot, smashed garlic cloves, and a pinch of salt. Cook over medium-low heat until the shallot is soft and the garlic is fragrant, 3 to 5 minutes. Remove the garlic cloves.
Stir the greens into the pan and cook until lightly wilted. Add the pasta, roasted cauliflower, and vinegar mixture and stir to coat. Stir in ½ to ¾ cup of the pasta water to create a light sauce. Add the hazelnuts, raisins, and parsley.
Season to taste with salt, pepper, and additional sambal, if desired. Serve with lemon wedges.
To make this vegan, don't use honey.
Recipe by
Love and Lemons
at https://www.loveandlemons.com/whole-wheat-shells-roasted-cauliflower/