Meyer Lemon Madeleines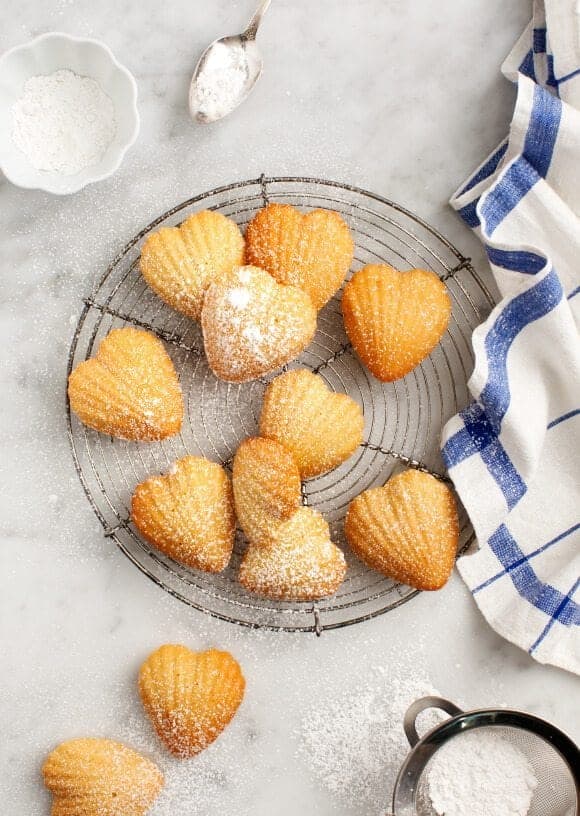 2 eggs
⅓ cup cane sugar
¼ teaspoon sea salt
½ teaspoon vanilla extract
¼ teaspoon lemon oil
½ cup all-purpose flour, sifted
1 teaspoon lemon zest (from a Meyer lemon, ideally)
4 tablespoons coconut oil, melted and cooled
Powdered sugar, for dusting
Preheat the oven to 375°F. Spray your madeleine pan with cooking spray, or skip if your pan is nonstick.
In a large bowl, combine the eggs, sugar and salt. Use an electric mixer and, beat well until the mixture is pale, thick and fluffy, about 5 minutes. Beat in the vanilla and lemon oil. Sprinkle the sifted flour over the egg mixture and beat on low speed to incorporate.
Using a rubber spatula, gently fold in the lemon zest and half of the coconut oil just until blended. Fold in the remaining coconut oil.
Divide the batter among the prepared molds, using a heaping tablespoon of batter for each mold. Bake the madeleines until the tops spring back when lightly touched, 5 to 8 minutes. (This might vary depending on your oven - we baked ours for 5).
Remove the pan from the oven and invert it over a wire rack, then rap it on the rack to release the madeleines. Once they're cool, dust with powdered sugar.