Healthy Loaded Vegan Nachos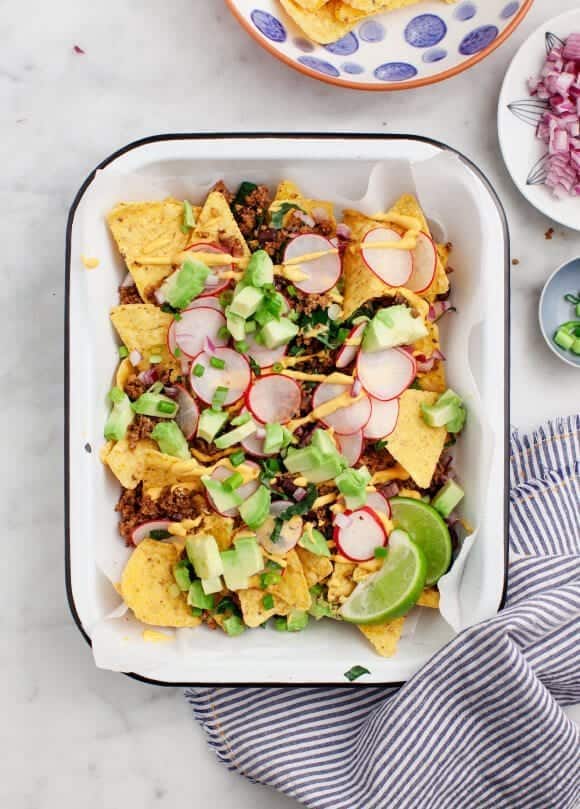 Recipe type:
Appetizer, main dish
1 tablespoon extra-virgin olive oil
1½ cups de-stemmed and diced shiitake mushrooms
1 cup chopped raw walnuts
½ to 1 tablespoon tamari
1 teaspoon cumin
1 teaspoon coriander
¼ teaspoon garlic powder
¼ teaspoon onion powder
pinch of smoked paprika
½ teaspoon balsamic vinegar
½ cup cooked black beans, drained and rinsed
several big handfuls of tortilla chips
1 kale leaf, thinly sliced
2 tablespoons chopped scallions
½ cup (or more) pumpkin cashew cream, from this recipe
1 radish, thinly sliced
1 small avocado, diced
2 tablespoons diced red onion
¼ cup chopped cilantro
1 lime, sliced into wedges
hot sauce or a scoop of salsa (optional)
Make the mushroom-walnut taco "meat": In a small skillet, heat the olive oil over medium heat. Add the mushrooms and cook, stirring only occasionally, until they begin to brown and soften, 3 to 4 minutes. Stir in the walnuts and lightly toast for 1 to 2 minutes. Stir in the tamari, cumin, coriander, garlic powder, onion powder, and paprika. Add the balsamic vinegar and stir again. Turn the heat off and stir in the black beans. Taste and adjust seasonings, adding more tamari if desired.
Assemble the nachos: On a large platter, arrange half of the tortilla chips in a single layer, top with ¾ of the taco "meat," the kale, half the scallions, and half the pumpkin cashew cream. Add another layer of chips and top with the remaining taco meat, remaining cashew cream, radishes, avocado, remaining scallions, diced red onion, and cilantro. Top with a squeeze of lime juice and serve with the remaining lime slices.
Serve with salsa or hot sauce, if desired. Serve immediately.
If you are gluten free, be sure to look for corn tortilla chips that are certified gluten free.
Recipe by
Love and Lemons
at https://www.loveandlemons.com/healthy-loaded-vegan-nachos/