Cauliflower Steaks with Romesco Sauce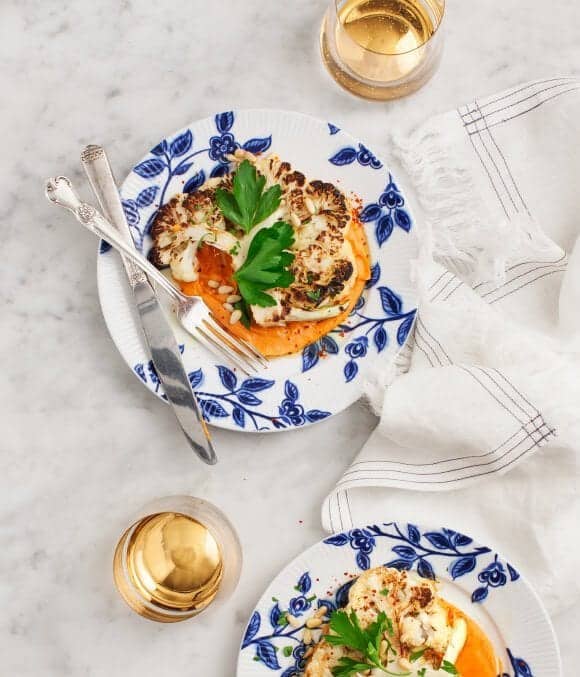 2 1-inch thick cauliflower "steaks" from 1 medium cauliflower
1 tablespoon sunflower oil (or other high-heat oil)
Sea salt and freshly ground black pepper
2 tablespoons chopped parsley
2 tablespoons pine nuts, toasted
1 tablespoon golden raisins
½ teaspoon lemon zest
2 roasted red bells peppers, fresh or from a jar
2 tablespoons tomato paste
3 tablespoons water
2 tablespoons red wine vinegar
¼ cup cooked chickpeas (or 1 slice ciabatta bread, for thickening)
¼ cup toasted hazelnuts
¼ cup blanched almonds
2 garlic cloves
1 teaspoon sweet paprika
¼ cup extra-virgin olive oil, more to taste
Sea salt and freshly ground black pepper
Make the Romesco Sauce: In a blender, combine the red peppers, tomato paste, water, vinegar, chickpeas, hazelnuts, almonds, garlic, paprika, olive oil, and a pinch of salt and pepper. Blend until smooth. Season to taste.
Preheat the oven to 400°F. Cut two 1-inch thick slices from the cauliflower, keeping the core intact. Heat the oil in a large cast iron pan. Place the cauliflower steaks into the pan and gently press them down. Lightly brush the top of the steaks with a little more oil, and season with salt and pepper. Sear for 2 minutes per side, or until golden brown, then transfer to the oven and roast for 15 minutes or until the cauliflower is tender but firm.
Spread two plates with romesco sauce and top each with a cauliflower steak. Sprinkle with the chopped parsley, pine nuts, golden raisins, and lemon zest. Season with salt and pepper to taste.
Store extra romesco sauce in the fridge for up to 4 days. Slather it on sandwiches or use as a veggie dip.
Recipe by
Love and Lemons
at https://www.loveandlemons.com/roasted-cauliflower-steaks/