Greek Salad Flatbread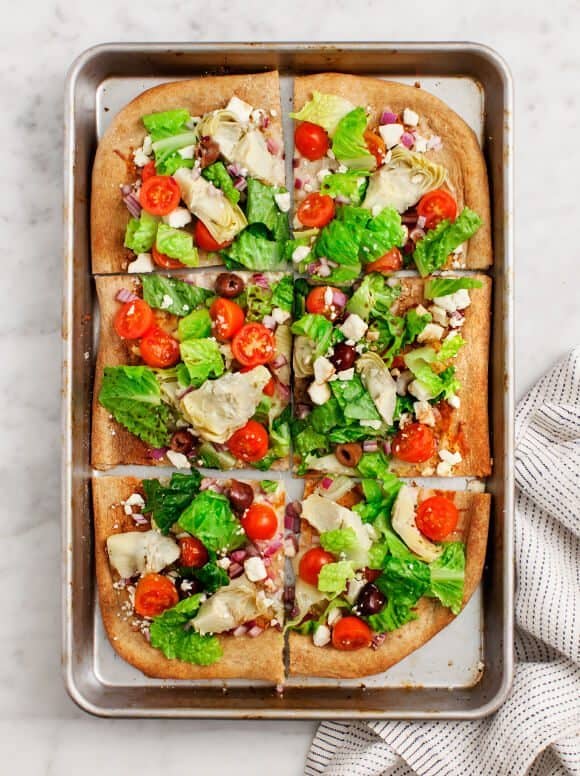 1 (approx. 8 oz.) ball of store-bought pizza dough
flour for rolling out the dough
extra virgin olive oil, for drizzling
¼ cup olives
½ cup grape tomatoes
½ cup marinated artichokes
1 very small red onion
2 garlic cloves
1 heart romaine lettuce
¼ cup crumbled feta cheese
½ cup grated mozzarella cheese
1 tablespoon balsamic vinegar
Sea salt and freshly ground black pepper
Preheat the oven to 425 degrees.
On a lightly floured surface, roll out the dough into a ¼ inch thick rectangle, about 9x13 inches. Place onto a lightly oiled baking sheet and prick all over with a fork. Place in the oven for 8-12 minutes, until beginning to brown on the edges.
Meanwhile quarter the olives and tomatoes. Drain and quarter the artichokes. Halve, peel, and thinly slice the red onion. Mince the garlic. Slice the romaine into 1-inch pieces.
Assemble the flatbread. When the dough is almost golden brown, remove it from the oven and sprinkle with the mozzarella cheese. Top with the olives, artichokes, tomatoes, garlic, onion and feta. Season with salt and pepper. Return to the oven for 7-10 minutes, until the cheese is bubbly.
Meanwhile, in a medium bowl, toss the romaine with the balsamic vinegar, a drizzle of olive oil, salt and pepper.
Top the flatbread with the romaine and cut in to slices.