Lemon Pesto Spaghetti Squash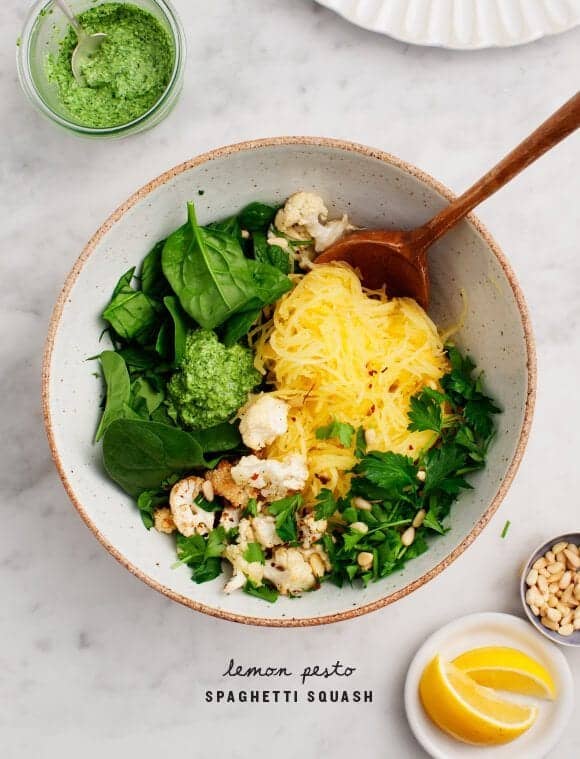 1 medium spaghetti squash
Extra-virgin olive oil, for drizzling
2 cups cauliflower florets
Hemp Seed Pesto (use spinach and herbs in place of the kale)
2 cups baby spinach, coarsely chopped
Juice of ½ small lemon, plus wedges for serving
2 tablespoons pine nuts
¼ cup chopped fresh herbs (parsley or basil)
Sea salt and freshly ground black pepper
Parmesan cheese (optional)
Preheat the oven to 400°F and line two baking sheets with parchment paper.
Prepare and roast the spaghetti squash according to the instructions in this post. Drizzle the cauliflower with olive oil, sprinkle with salt and pepper, and place on the second baking sheet. Roast for about 25 minutes or until golden brown around the edges.
Meanwhile, make the pesto and set aside.
Place the baby spinach in a large bowl. Use a fork to scrape the spaghetti squash into strands. Add the lemon juice and season to taste with salt and pepper (you can do this right in the spaghetti squash halves). Add the spaghetti squash to the bowl and gently toss, so that the heat from the squash lightly wilts the spinach leaves.
Add the roasted cauliflower, pine nuts, parsley, and a dollop of the pesto.
Optional step: toss it all together so that the pesto coats all of the vegetables.
Serve with lemon wedges, extra pesto, and Parmesan, if desired.
Recipe by
Love and Lemons
at https://www.loveandlemons.com/lemon-pesto-spaghetti-squash/