Healthy Apple Cinnamon Muffins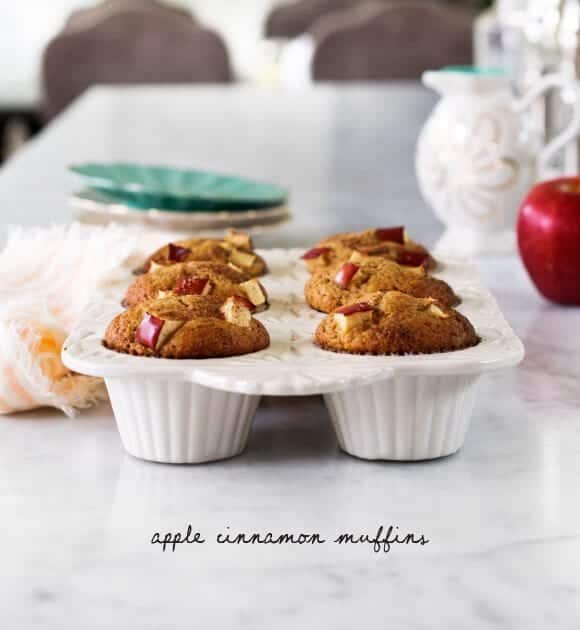 Recipe type:
Snack, breakfast
¾ cup almond milk
2 teaspoons apple cider vinegar
¼ cup sunflower (or canola) oil
¾ cup cane sugar
2 large eggs
1 cup unsweetened applesauce
1 teaspoon vanilla extract
1 cup spelt or whole wheat flour
1 cup all-purpose flour
1 teaspoon baking soda
1 teaspoon baking powder
½ teaspoon cinnamon
½ teaspoon sea salt
1 large gala apple, diced
1 tablespoons cane sugar
½ teaspoon cinnamon
Preheat the oven to 400°F. Line a 12-cup muffin tin with paper liners, or spray lightly with cooking spray.
In a medium bowl, whisk together the almond milk and apple cider vinegar. Set aside.
In a large bowl, whisk together the flours, baking soda, baking powder, cinnamon and salt.
In a small bowl, stir together the sugar and cinnamon for the topping. Set aside
To the medium bowl with the almond milk, add the oil, sugar, eggs, applesauce and vanilla extract. Whisk until well combined.
Pour the wet mixture into the large bowl with the dry ingredients and mix until just combined. Stir in two-thirds of the chopped apples. Use a ⅓ cup measuring cup to fill each muffin cup. Top with the remaining apples and sprinkle with the cinnamon sugar.
Bake for 20 to 25 minutes, or until a toothpick inserted in the middle comes out clean.
Recipe by
Love and Lemons
at https://www.loveandlemons.com/healthy-apple-cinnamon-muffins/