Chickpea & Cauliflower Tomato Stew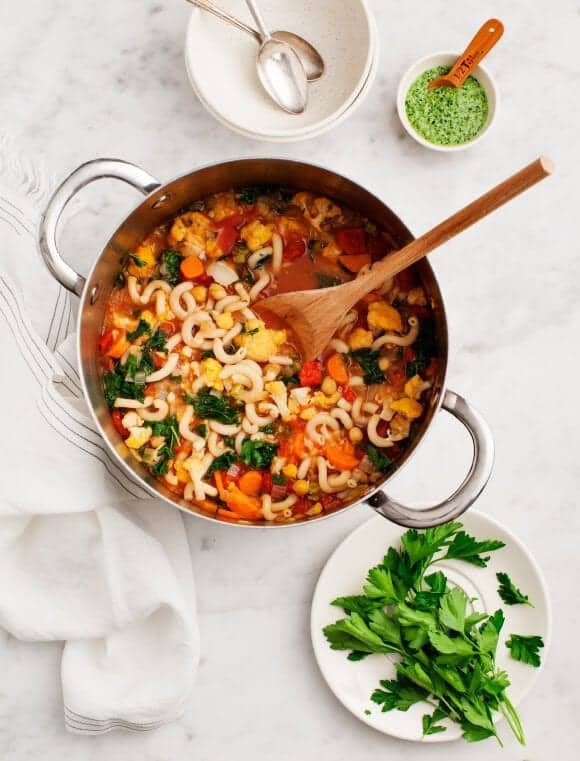 2 tablespoons extra-virgin olive oil
1 medium yellow onion, chopped
1 carrot, chopped
4 kale leaves, stems chopped, leaves torn
2 to 3 cups small cauliflower pieces
3 garlic cloves, minced
¼ cup white wine (or a splash of balsamic vinegar)
1 (14-ounce) can diced tomatoes
bundle of fresh thyme & rosemary (about 4 sprigs each)
6 cups vegetable broth (I like the Whole Foods brand)
4-6 oz. gluten free fusilli, elbow or shell pasta
1 cup cooked chickpeas, drained and rinsed
sea salt and freshly ground pepper
chopped parsley (optional)
parmesan or pecorino cheese (optional, skip if vegan)
Heat the oil in a large pot over medium heat. Add the onion, carrot, and a few pinches of salt and pepper. Cook until the onion is soft and translucent, about 10 minutes.
Stir in the kale stems, cauliflower, and garlic. Season with more salt and pepper and cook 2 more minutes. Add the wine, stir, then add the tomatoes. Simmer for 8 minutes.
Add the herbs, broth, pasta and chickpeas and another few pinches of salt. Simmer until the cauliflower is tender, about 30 minutes.
Meanwhile, make the pesto.
Season the soup to taste. Before serving, stir in the kale until wilted.
Serve soup with pesto and chopped parsley, if using, on the side.
Recipe by
Love and Lemons
at https://www.loveandlemons.com/chickpea-cauliflower-minestrone-soup/