Creamy White Bean & Tomato Soup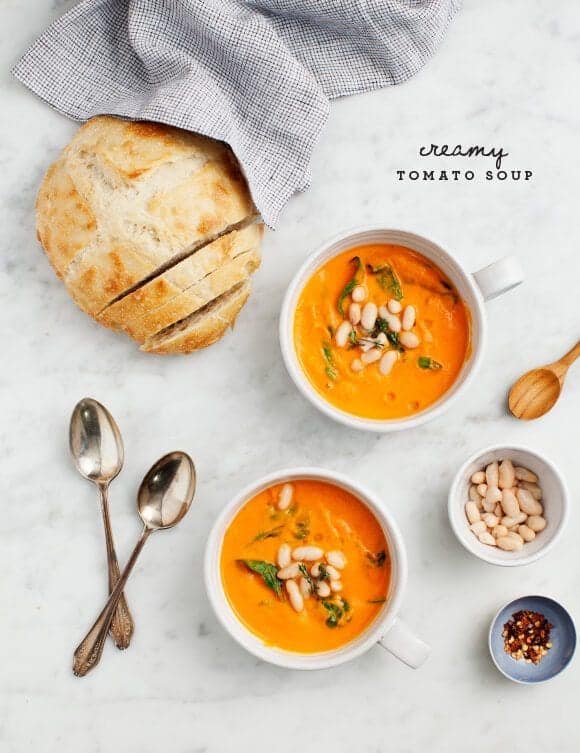 1½ tablespoons extra-virgin olive oil
1 medium yellow onion, diced
2 garlic cloves, chopped
2 carrots, chopped
splash of white wine (or a few teaspoons balsamic vinegar)
1 (28-ounce) can whole tomatoes
3 to 4 sprigs fresh thyme
2 cups vegetable broth
¼ cup raw cashews (optional, for extra creaminess)
1½ cups cooked cannellini beans, divided
3 cups baby spinach
½ teaspoon sea salt, more to taste
freshly ground black pepper
Heat the oil in a large pot over medium-low heat. Add the onion and a few generous pinches of salt and pepper. Cook for a few minutes, stirring, and then add the garlic and carrots. Cook until the onion is soft and translucent and the carrots begin to soften, 8 to 10 minutes.
Add the tomatoes, breaking them up in the pot with a wooden spoon. Season with more salt and pepper and cook for 8 more minutes, or until the tomatoes cook down and continue to break apart.
Add the wine, stir and let the alcohol cook off for about 1 minute. Add the cashews, if using, HALF of the white beans, the thyme sprigs, the broth and simmer for 20 minutes, stirring occasionally.
Remove the thyme sprigs from the pan and carefully pour the mixture into a blender, working in batches if necessary. Blend the soup then season to taste with salt, pepper. If the soup is too thick, add a little more broth or water.
Pour the blended soup back into the pot. Add the remaining beans and the spinach and simmer over low heat until the spinach is wilted and the soup is hot. Season to taste and serve.
Other options - add balsamic vinegar for a brighter soup or Parmesan cheese for a richer soup.
Recipe by
Love and Lemons
at https://www.loveandlemons.com/creamy-white-bean-tomato-soup/