Butternut Squash Baked Eggs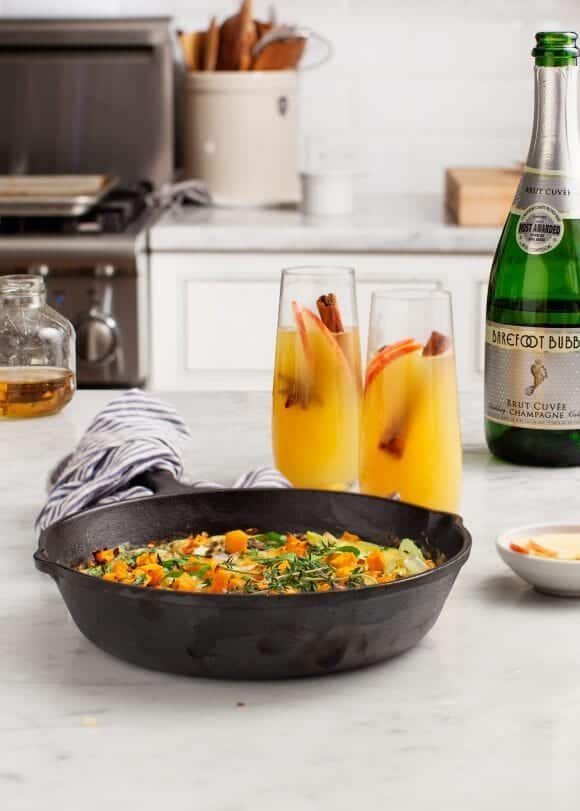 1 cup cubed butternut squash (⅓ inch cubes)
Extra-virgin olive oil, for drizzling
6 large eggs
¼ cup almond milk
1 garlic clove, minced
1 teaspoon extra-virgin olive oil
1 medium leek, white and light green parts only, rinsed well and sliced (1 cup)
2 tablespoons chopped fresh herbs (mix of sage and thyme)
½ teaspoon balsamic vinegar
Sea salt and freshly ground black pepper
Preheat the oven to 400°F and line a baking sheet with parchment paper. Toss the butternut squash cubes with a drizzle of olive oil and a few pinches of salt and pepper. Roast until the squash is tender, about 20 minutes.
Whisk together the eggs, almond milk, and minced garlic and set aside.
Heat a 1 teaspoon of olive oil in an 8-inch cast-iron skillet over medium heat. Add the leeks and a pinch of salt and pepper and saute until soft, about 1 minute. Stir in the herbs and roasted butternut squash and cook for another minute. Add the balsamic vinegar and stir so that nothing is sticking to the bottom of the pan. Add the egg mixture and spread in an even layer. Transfer the skillet to the oven and bake for 20 to 25 minutes, or until the eggs are set and the edges are golden brown.
Double the recipe and use a 12-inch skillet to serve 4 to 6.
Recipe by
Love and Lemons
at https://www.loveandlemons.com/apple-mimosas-butternut-baked-eggs/