lemon risotto with asparagus & peas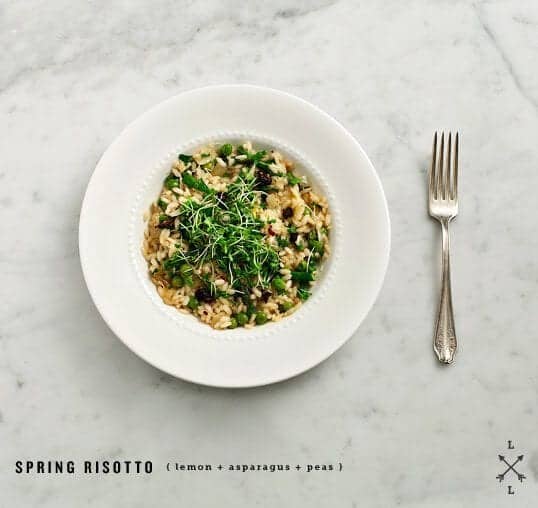 1 cup arborio rice
½ cup white wine
1 clove garlic, minced
½ large onion, chopped
3 cups veggie stock
2 tablespoons butter (I use non-dairy butter)
½ tablespoon olive oil
1 egg yolk, beaten
1 small lemon, zest and juice
½ cup peas (or however much you like)
1 cup asparagus, chopped into 1-inch pieces
4 basil leaves, chopped
handful of sprouts
salt & pepper
sun dried tomatoes (optional)
shaved parmesan or pecorino (optional)
red pepper flakes (optional)
water or more stock, if needed
Put veggie stock in a pan on the stove and simmer.
In a large skillet over medium heat, heat butter, oil, onion, garlic, and a few pinches of salt. Cook until onion is soft, 4-5 minutes.
Add rice, stir together, and let the rice toast for about 1 minute.
Add white wine and half the lemon juice and let it cook, stirring for about 2 minutes until the wine is somewhat evaporated.
Add stock, one ladle full at a time, stirring continuously. When stock becomes mostly cooked down, add the next ladle full. This process should take about 20 minutes. Add more stock or water if necessary. During the last few minutes of this process, add in asparagus and peas.
Remove pan from heat. Mix in sun dried tomatoes, remaining lemon juice, lemon zest (reserve a bit for garnish at the end), beaten egg yolk, and cheese (if using). Stir together. Taste and adjust seasonings. Add more hot stock if necessary to reach your desired consistency.
Scoop into bowls and garnish with lemon zest, sprouts, basil, red pepper flakes & grated cheese, if you like.
adapted from Leite's Culinaria
Recipe by
Love and Lemons
at https://www.loveandlemons.com/spring-lemon-risotto-asparagus-peas/