Broccoli Pesto Mac & Cheese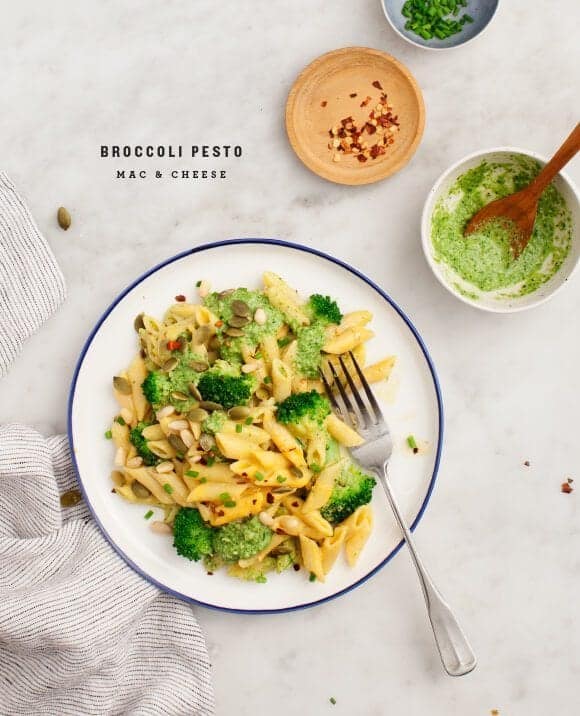 4 cups broccoli florets (reserve 2 cups for the pesto below)
1 (5.5 ounce) box Annie's Four Cheese Macaroni & Cheese
½ cup unsweetened almond milk, or regular milk
2 tablespoons unsalted butter
2 cups broccoli florets, blanched
3 tablespoons pepitas (or pine nuts)
Handful of fresh basil
1 garlic clove
2 to 3 tablespoons fresh lemon juice
¼ cup extra-virgin olive oil
Sea salt & freshly ground black pepper
Handful of toasted pepitas or pine nuts
Pinches of red pepper flakes
Sprinkle of chives
Prepare a large saucepan of salted boiling water and a large bowl of ice water. Drop all four cups of broccoli florets into the boiling water and blanch for 30 seconds to 1 minute, until slightly tender but still vibrant green. Remove and immediately place immerse into the ice water for 1 minute, then drain.
Make the pesto: In a food processor, combine 2 cups of the blanched broccoli with the pepitas, basil, and garlic. Pulse until combined. Add the lemon juice and a few generous pinches of salt and pepper and pulse again. With the blade running, add the olive oil until the pesto becomes smooth. Taste and adjust seasonings. Set aside.
Rinse the saucepan you used for the broccoli, fill it with fresh water, and bring to a boil. Add the pasta and cook 8 to 10 minutes, or until al dente, stirring occasionally. Drain the pasta in a colander. While the pasta is draining, add the milk and butter to the warm saucepan. Sprinkle the cheese over the milk and stir to combine. Add the cooked pasta to the saucepan and stir well. Stir in the remaining 2 cups of blanched broccoli florets until the broccoli is warmed through. Stir in a few scoops of pesto. Serve with extra pesto and optional toppings on the side.
Store extra pesto in the fridge for 2 to 3 days.
tip: for a lighter pesto, sub half the olive oil with vegetable broth.
Recipe by
Love and Lemons
at https://www.loveandlemons.com/broccoli-pesto-mac-cheese/