Chipotle Apple Sweet Potato Salad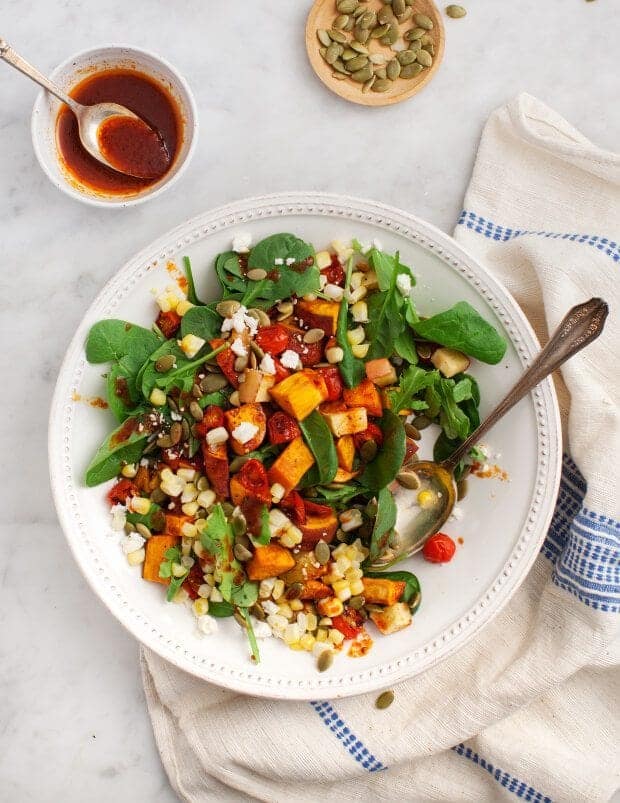 Serves:
2 as a meal, 4 as a side
1 medium sweet potato, chopped
1 large gala apple, cored and chopped
¾ cup cherry or grape tomatoes, sliced in half
1 ear of fresh corn, husked
extra-virgin olive oil, for drizzling
two handfuls of baby spinach and/or arugula
¼ cup pepitas, toasted
sea salt and freshly ground black pepper
¼ cup feta cheese, optional
1 tablespoon extra-virgin olive oil
2 teaspoons chipotle paste (or chipotle powder, to taste, see note)*
2 teaspoons apple cider vinegar
¼ teaspoon honey (or maple syrup if vegan)
sea salt and freshly ground black pepper
Preheat oven to 350°F, and line a large baking sheet with parchment paper.
Toss the sweet potatoes, apple, and tomatoes onto the baking sheet with a drizzle of olive oil and a pinch of salt and pepper. Roast 30 to 35 minutes until the edges of the sweet potato are golden brown, tossing halfway through.
Meanwhile wrap the ear of corn in foil and place it in oven during the last 15 minutes of roasting time.
In a small bowl whisk together the olive oil, chipotle paste (or powder), apple cider vinegar, honey (or maple syrup), and a pinch of salt and pepper.
Place the baby spinach and/or arugula in a large bowl along with the roasted sweet potatoes, apples and tomatoes. Slice the kernels off the corn and add them to the bowl as well. Toss the salad with the dressing, toasted pepitas, and feta cheese, if using. Season to taste with salt and pepper.
*If you're using chipotle powder, start with ½ teaspoon since the spice level can vary from one powder to the next.

You can also use adobo sauce from a can of chipotles in adobo. The chipotle paste that I used here is very convenient because you can use small amounts at a time without opening and storing the contents of a whole can - I found it recently at Whole Foods.
Recipe by
Love and Lemons
at https://www.loveandlemons.com/chipotle-apple-sweet-potato-salad/