Black Bean Patties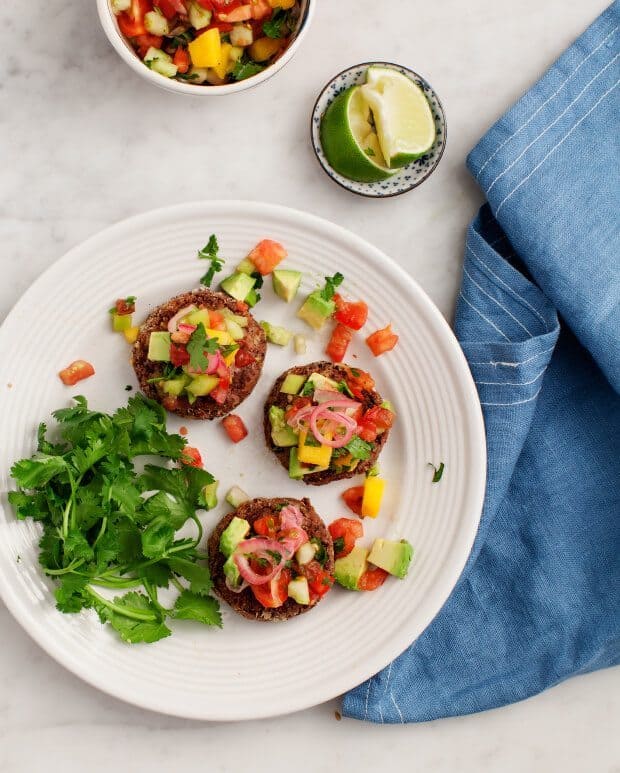 Serves:
about 8 mini patties
1 to 2 teaspoons extra-virgin olive oil
1 medium shallot, chopped (½ cup chopped)
2 garlic cloves, minced
½ teaspoon smoked paprika
1 tablespoon soy sauce or tamari
1 tablespoon balsamic vinegar
¼ cup chopped walnuts
1 cup cooked black beans, divided into two portions (½ cup each)
1 tablespoon ground flax + 3 tablespoons water (or 1 egg)
¾ cup cooked quinoa, divided into two portions (½ cup and ¼ cup)
2 tablespoons cornmeal
Sea salt and freshly ground black pepper
¼ to ½ teaspoon cayenne pepper (optional)
Prepare a baking sheet with parchment paper & preheat the oven to 375 F.
Heat the oil in a medium skillet over medium heat. Add the shallot and a few good pinches of salt and pepper. Turn the heat to low and cook for 3 to 5 or until they're soft and translucent. Add the garlic and smoked paprika and cook for 30 seconds more. Add the soy sauce or tamari, balsamic vinegar, walnuts, and the first ½ cup of black beans. Stir and cook for another few minutes then turn off the heat.
Let cool slightly, then transfer the cooled mixture from the pan to a food processor. Add the flax and the water and pulse until well combined. Add the remaining ½ cup of black beans and ½ cup of the quinoa and combine with just a few quick pulses of the food processor. You do not want to puree this mixture.
On a large plate, combine the remaining ¼ cup of quinoa with the cornmeal, a pinch of salt and freshly ground pepper, and cayenne, if using.
Scoop the black bean mixture out of the food processor and use your hands to gently form six equal size balls. Roll the balls into the quinoa and cornmeal mixture, then gently press into patties. Place onto the baking sheet and chill for 20 minutes.
Drizzle each patty with a bit of olive oil and bake for 15 minutes (or until they're firm enough to flip without falling apart). Turn and bake for an additional 10 to 12 minutes, or until the patties are lightly crisp. Top with the Heirloom Mango Pico and serve.