Cinnamon Quinoa Breakfast Bowl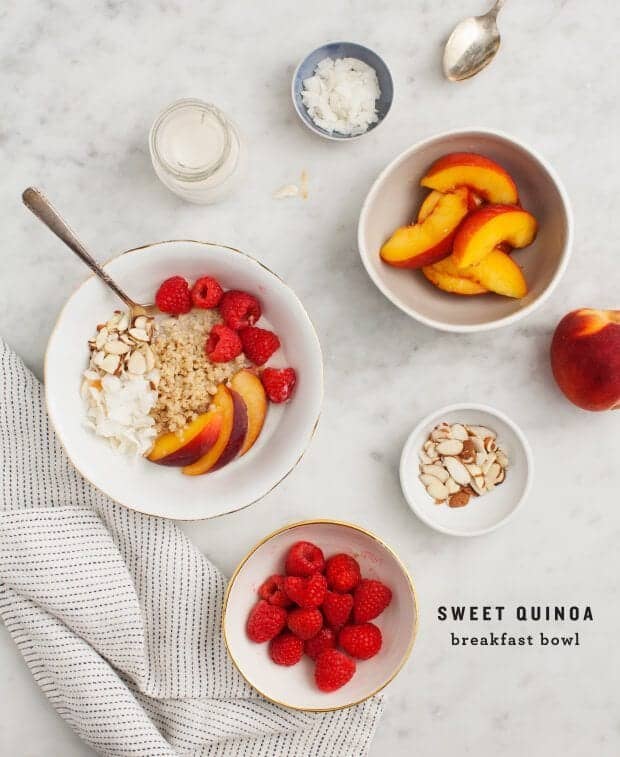 ½ cup uncooked quinoa
1 cup Almond Breeze Almondmilk, Original or Vanilla
1-2 cinnamon sticks
piece of a vanilla bean, or ½ teaspoon pure vanilla extract
pinch of salt
toasted sliced almonds
toasted coconut flakes
peaches
raspberries
maple syrup, optional
extra splashes of almond milk, optional
more spices, to taste (cinnamon, nutmeg, etc.), optional
Rinse and drain the quinoa.
Place it in a small saucepan and add the almond milk, 1-2 cinnamon sticks, vanilla, and a pinch of salt. Bring to a high simmer, cover and reduce heat to a low simmer for 15 minutes. (Tip: don't walk away, if it starts bubbling, turn the heat off, give it one stir mid-cook if you need to, and resume).
After 15 minutes, remove the pan from the heat and let the quinoa sit for 5 more minutes or until the almond milk is absorbed and the quinoa is cooked. Taste and add additional spices to your liking.
Scoop the quinoa into two bowls and top with toasted almonds, toasted coconut, and fruit. Serve with maple syrup if you like. Enjoy as a fluffy pilaf, or as more a porridge with warm almond milk poured on top.
- Cooked quinoa can be stored in the fridge for 4-5 days. Serve at room temp or heat it as you're ready to serve. If it's dry, add a few more splashes of almond milk.
- Sub in whatever seasonal fruit you like, dried fruits are also delicious here.
Recipe by
Love and Lemons
at https://www.loveandlemons.com/cinnamon-quinoa-breakfast-bowl/