Vegan Cherry Chocolate Chip Oatmeal Cookies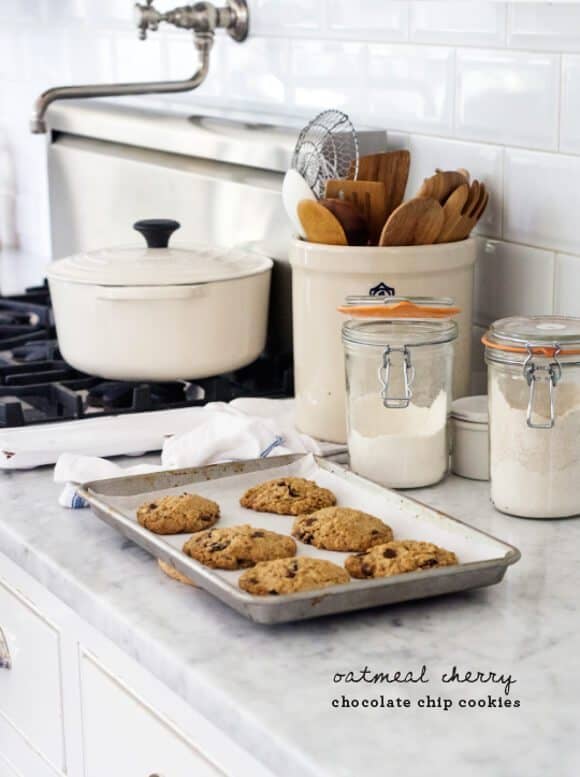 Serves:
16 large / 32 small cookies
2 tablespoons ground flaxseed
6 tablespoons warm water
2 cups flour (1 cup all-purpose flour + 1 cup spelt or whole wheat)
1 teaspoon baking soda
1 teaspoon cinnamon
½ teaspoon sea salt
⅔ cup melted coconut oil
1 cup brown sugar
½ cup pure maple syrup
1 teaspoon vanilla extract
2 cups whole rolled oats (not instant)
1 cup dried tart cherries
½ cup chocolate chips
Preheat the oven to 350°F and line a baking sheet with parchment paper.
In the bottom of your electric stand mixer's bowl*, add the flaxseed and water. Whisk it (by hand), until well emulsified. Leave it there to thicken while you mix your dry ingredients.
In a medium bowl, combine the flour, baking soda, cinnamon and salt. Set aside.
To your mixer's bowl (where you started the flaxseed mixture), add the coconut oil, brown sugar, maple syrup, and vanilla. Mix on medium-high speed until well combined.
Gradually add the dry ingredients, mixing after each addition. Mix on high until the dough is smooth and sticky. Add the oats, tart cherries and chocolate chips, and mix on low until all is combined.
Scoop a scant ¼ cup of dough onto the baking sheet. Repeat to form about 16 large cookies (or use a heaping teaspoon and make about 32 smaller ones).
Bake for 8-10 minutes or until the cookies are golden brown around the edges and still soft in the middle. Remove from the oven and let them cool on the baking sheet for at least 15 minutes.
*You can use an electric hand mixer if you don't have a stand mixer. I don't recommend mixing these by hand without a mixer.

Note: if you're not vegan, you can use 2 eggs in place of the flaxseed/water mixture. You can also use room temperature butter in place of the coconut oil. If your butter is salted, reduce the salt in the recipe to ¼ teaspoon or skip the added salt.
Recipe by
Love and Lemons
at https://www.loveandlemons.com/vegan-cherry-chocolate-oatmeal-cookies/