Mix & Match Mini Pizzas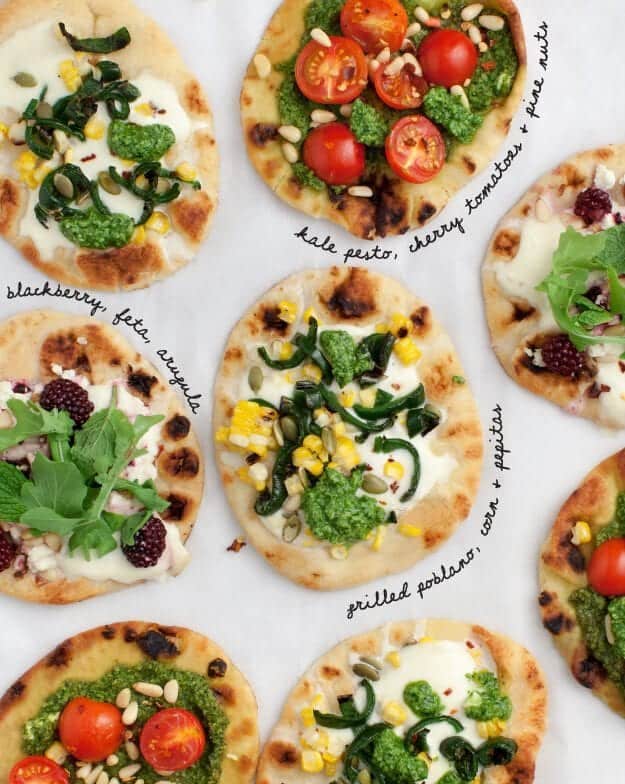 Serves:
8 pizzas, serves 4
Extra-virgin olive oil, for drizzling at the end
Sea salt and freshly ground pepper, to taste
1 cup cherry tomatoes, sliced in half
¼ teaspoon smoked paprika (mix with the tomatoes)
2 tablespoons pine nuts
a good slather of Kale Pepita Pesto (recipe below)
fresh mozzarella slices, 2-3 pieces per mini pizza
1 large poblano, grilled, deseeded and sliced into thin strips
1 ear fresh corn, grilled and kernels cut off the cob
2 tablespoons pepitas
dollops of Kale Pepita Pesto, after baking (recipe below)
fresh mozzarella slices, 2-3 pieces per mini pizza
¼ cup crumbled feta cheese
¼ cup blackberries, lightly crushed
drizzle of balsamic vinegar
a few leaves of fresh mint
a few leaves of arugula
½ cup pepitas
1 small garlic clove
2 packed cups baby kale (or mix of kale and basil)
Juice and zest of 1 small lemon
¼ teaspoon ground cumin
¼ teaspoon dijon mustard
¼ cup extra-virgin olive oil, more as needed
Sea salt and freshly ground black pepper
¼ teaspoon honey or maple syrup (optional to offset bitterness)
Preheat the oven to 350 degrees F (or heat an outdoor grill).
Make the pesto by pulsing the pepitas and garlic together in a food processor. Next add the baby kale and pulse again. Add the lemon juice, lemon zest, cumin, dijon mustard and a few pinches of salt and freshly ground pepper. Pulse again, then with the food processor running, add the olive oil until the pesto emulsifies. Taste and season with more salt and pepper as desired. If your pesto is a little bitter from the kale, add a little bit of honey or maple syrup to balance the flavors.
Assemble naan pizzas with toppings of your choice, be sure to add the mint and arugula after your pizzas are done baking. Bake for 12-18 minutes or until the cheese is melted. Drizzle with olive oil if you like and dig in!