Summer Squash Pizza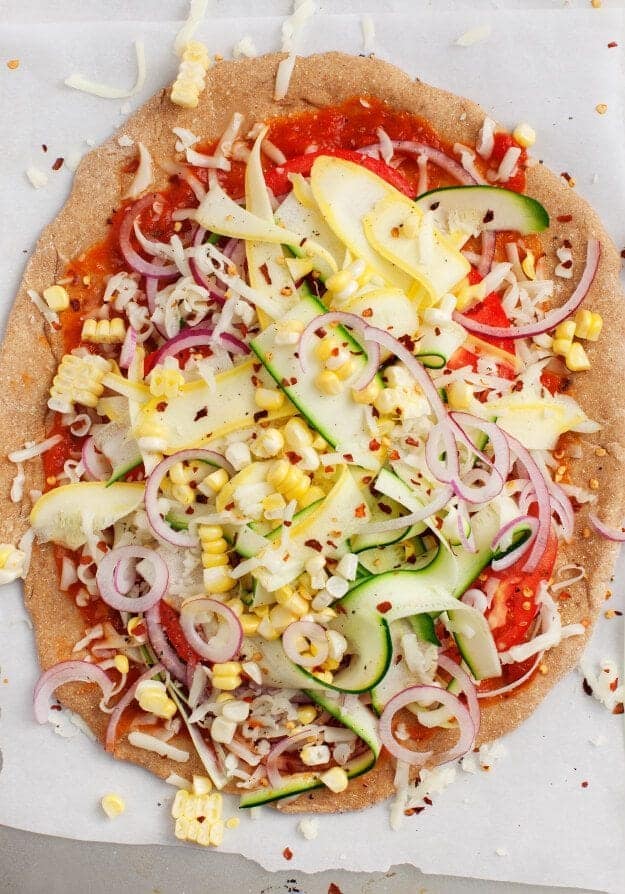 1 recipe pizza dough
⅓ cup marinara sauce or canned crushed tomatoes
1 medium tomato sliced
¼ red onion sliced
1 scallion, thinly sliced
1 cup shredded smoked mozzarella cheese
1 small zucchini, peeled into strips
1 small yellow squash, peeled into strips
kernels from ½ ear of fresh corn
pinches of red pepper flakes
sea salt and freshly ground black pepper
Preheat the oven to 475 °F. and line a large baking sheet with parchment paper.
Roll the dough out onto the baking sheet and partially bake it for about 5 minutes.
Remove from the oven and top the crust with the tomato sauce, scallions, half of the onions, half of the cheese, sliced tomatoes, a pinch of salt and pepper, zucchini, yellow squash, the remainder red onions, corn, and the remainder of the cheese. Top it all with a few pinches of red pepper flakes and another pinch of salt and pepper. Bake until the cheese is melted and bubbling, about 5 more minutes.