Watermelon Feta Salad with Avocado & Kale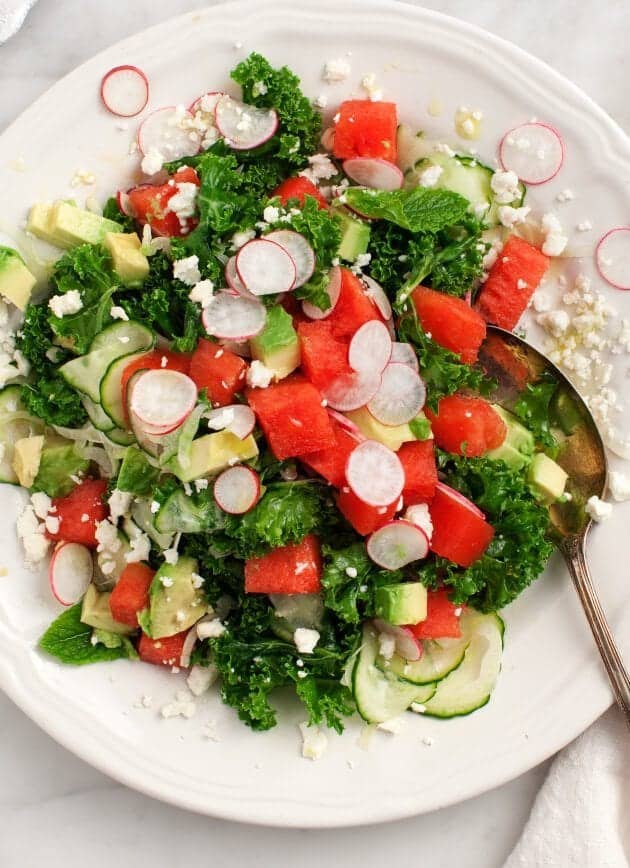 Recipe type:
Salad, side dish
Serves:
2 as lunch, 4 as a side
one small bunch of curly kale
1 tablespoon extra-virgin olive oil
1 teaspoon lemon juice, more to taste
1 teaspoon white wine vinegar
1 small fennel bulb, very thinly sliced
1 small cucumber, very thinly sliced
3 small radishes, thinly sliced
2 scallions, chopped
½ avocado, pitted and cubed
¼ cup crumbled feta cheese
4 cups cubed watermelon, seeds removed
sea salt and freshly ground black pepper
Remove the coarse stems of the kale and tear the curly leaves into small pieces. Place them in a large bowl with a drizzle of olive oil, salt, pepper, lemon and white wine vinegar. Use your hands to massage the kale leaves until they're soft and tender. They should shrink down to about half the amount that you started with.
Add the sliced fennel, cucumber, radishes, scallions, avocado, feta and toss. Add the watermelon and toss again. Taste, and add more salt, pepper, lemon and/or olive oil as you like.
Recipe by
Love and Lemons
at https://www.loveandlemons.com/watermelon-feta-salad-kale-avocado/