Green Bean & Purple Potato Salad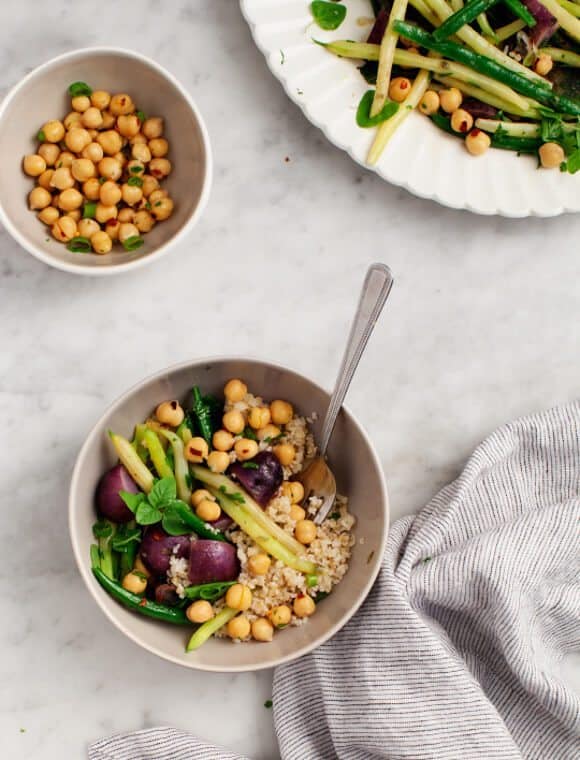 Serves:
serves 4 as a side
6-8 small-medium purple potatoes (about ¾ pound)
2 tablespoons olive oil, more to taste
1 clove garlic, minced
1 heaping teaspoon of capers
1 teaspoon dijon mustard
2 big handfuls of green and/or yellow wax beans
Juice and zest of 1 lemon
2 scallions, chopped
¼ cup fresh parsley, chopped
¼ cup fresh oregano leaves
¼ teaspoon red pepper flakes
sea salt and freshly ground black pepper
½ cup cooked chickpeas
½ cup cooked bulgur (quinoa, or millet if gluten free)
soft boiled eggs (instructions here)
pickled onions (not pictured, but a tasty addition)
Bring a large pot of salted water to a boil. Scrub the potatoes and slice them into 1 inch pieces. Add the potatoes and cook until knife-tender, about 15 minutes. (Alternatively, you could roast them in the oven with a drizzle of olive oil at 400°F for 20-25 minutes).
Meanwhile, in a large bowl, combine the olive oil, garlic, capers, mustard and generous pinches of salt and pepper. Use a rubber spatula or wooden spoon to smash the garlic and capers into a paste at the bottom of the bowl. When your potatoes are done, scoop them out of the water (leave the water boiling for your green beans), transfer them to the bowl, and toss to coat them with the 'dressing' at the bottom of the bowl.
Prepare a bowl of ice water and place it near your pot of boiling water. Add the green beans to the boiling water and cook they're tender but still vibrant. About 3 minutes. Scoop them out of the boiling water and into the ice bath to cool - about 1 minute. Drain and toss them into the bowl of potatoes. Add the lemon juice, zest, scallions, parsley, oregano, and red pepper flakes and toss to coat.
Taste and add more salt, pepper, lemon juice to taste. If your salad is a little dry, drizzle some more olive oil and toss again.
Optional: add cooked chickpeas, a (cooked) grain, and/or a few soft-boiled eggs.
Recipe by
Love and Lemons
at https://www.loveandlemons.com/green-bean-purple-potato-salad/