Anna's Avocado & Lemon Zest Spaghetti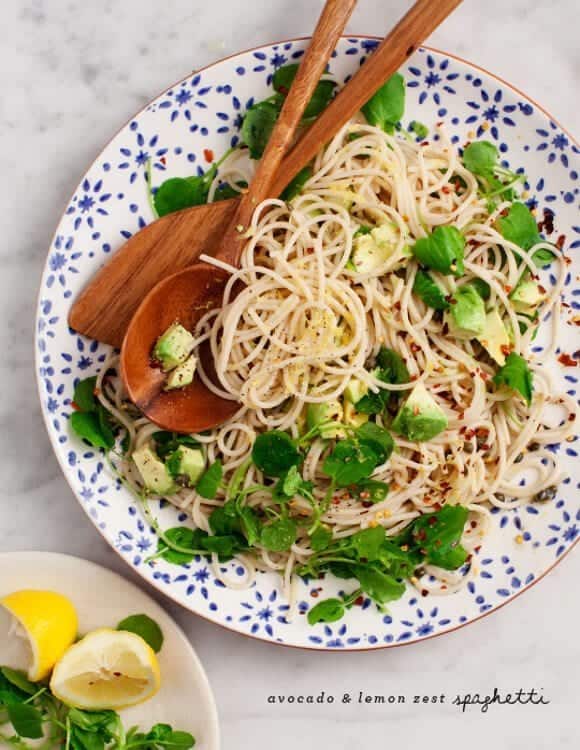 sea salt and freshly ground black pepper
400g spaghetti
olive oil
4 tablespoons capers in brine, roughly chopped
1 clove of garlic, peeled and very finely sliced
grated zest of 2 unwaxed lemons, and juice of 1⁄2 a lemon
a bunch of fresh basil, leaves picked
a bunch of fresh parsley, leaves picked
2 ripe avocados
Fill a big pan with boiling water and add a good pinch of salt. Bring to
a rolling boil, then add the pasta and cook for 8–10 minutes, or according to the instructions on the packet, until perfectly al dente.
Heat some olive oil in a large frying pan on a low heat, then add the capers and garlic and sizzle gently until the edge of the garlic starts to very slightly brown. Remove from the heat and add the lemon zest.
Chop the herbs and add them to the pan. Halve and destone the avocados, then use a knife to make criss-cross cuts through the flesh, chopping
it inside the skin. Use a spoon to scoop out each half into the pan, and stir to mix all the flavours together.
Before you drain the pasta, carefully scoop out half a mugful of the pasta water. Drain the pasta and add it to the frying pan with a little of the cooking water and a good drizzle of olive oil. Taste and add salt, pepper and lemon juice as needed. Scoop the pasta into bowls and eat on your lap.
I used watercress instead of parsley, and I tossed it in at the very end.

Also, I made a half-recipe to serve just 2 of us.
Recipe by
Love and Lemons
at https://www.loveandlemons.com/annas-avocado-lemon-zest-spaghetti/