Vegan Spinach Mac & Cheese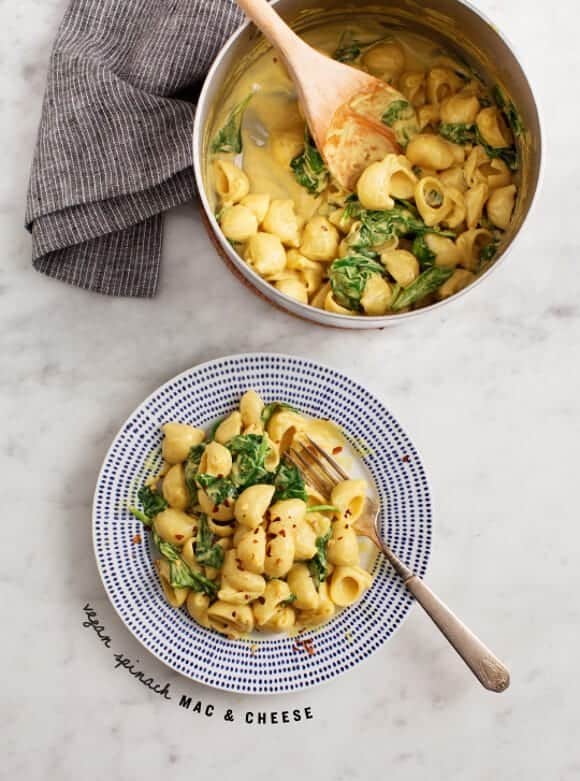 1 shallot, chopped
2 garlic cloves, minced
Extra-virgin olive oil, for drizzling
½ teaspoon smoked paprika
1 tablespoon balsamic vinegar
1 cup raw cashews, soaked 3 to 4 hours, preferably overnight, and drained
3 tablespoons extra-virgin olive oil
½ cup water, more as needed
¼ cup nutritional yeast
Pinch of cayenne pepper
1 teaspoon turmeric, optional
Sea salt and freshly ground black pepper
12 ounces macaroni or small shell pasta*
4 cups packed spinach
In a small skillet, heat a drizzle of olive oil over medium-low heat. Add the shallot and garlic and sauté until soft, about 3 to 5 minutes. Stir in the paprika and balsamic vinegar and cook another 30 seconds.
In a high speed blender, puree the sautéed shallot mixture with the cashews, 3 tablespoons of olive oil, the water, nutritional yeast, cayenne and turmeric (if using). Season to taste with salt and pepper. Makes about 1 ¾ cups of sauce.
Bring a large pot of salted water to a boil. Prepare the pasta according to the instructions on the package, cooking until al dente. Reserve 1 cup of the pasta water. Drain and return the pasta to the pot. Stir in the sauce, adding the pasta water as needed to thin the sauce and make it creamy. Add the spinach, stir until wilted, season to taste, and serve.
*Gluten-free option: use brown rice pasta
Recipe by
Love and Lemons
at https://www.loveandlemons.com/vegan-spinach-mac-cheese/