Spicy Mango & Avocado Rice Bowl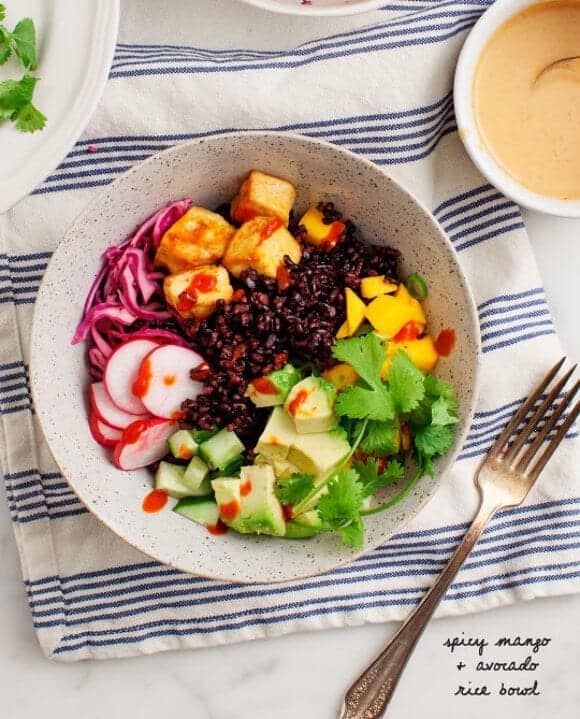 2 cups cooked black forbidden rice, or other grain
1 14 oz. package extra firm tofu
drizzle of olive oil
drizzle of tamari
1 mango, cubed
1 scallion, sliced
1 cup shredded red cabbage
a few radishes, thinly sliced
½ cup chopped cucumber
1 avocado, pitted and diced
lime slices
handful of chopped cilantro (or basil or mint)
⅓ cup coconut milk (full fat or light, from a can or box)
2 tablespoons peanut butter
2 teaspoon soy sauce
2 teaspoons lime juice
1 teaspoon sriracha
optional - minced garlic and/or ginger
Cook black rice as you would brown rice (I use a rice cooker). Ratio is 1 cup rice to 2 cups water.
Preheat oven to 400 degrees F and prepare a baking sheet with parchment paper.
Pat tofu dry, slice into cubes and toss with drizzle of olive oil and tamari. Arrange on baking sheet and bake until golden brown around the edges. About 20-25 minutes. Remove from oven and toss with a little sriracha to coat the outside of the tofu.
While your tofu bakes, mix together the sauce ingredients. (I do this in a jar with a tight lid - shake until combined). Taste and adjust seasonings.
Assemble bowls with mango, scallions, shredded red cabbage, radishes, cucumber, avocado cilantro and tofu. Serve with coconut sauce, extra sriracha and lime slices.
Store leftovers in an air tight container in the refrigerator. If you're planning on storing longer than 1 day, keep your avocado separate and dice it as you're ready to eat. (Avocado storage tip: keep sliced-open avocados in a sealed plastic bag with a chunk of onion - it should last 2-3 days).

Store sauce separately in the fridge - if it firms up overnight, stir in a little water to thin it out.
Recipe by
Love and Lemons
at https://www.loveandlemons.com/spicy-mango-avocado-rice-bowl/