Toast with Radishes & Dandelion Greens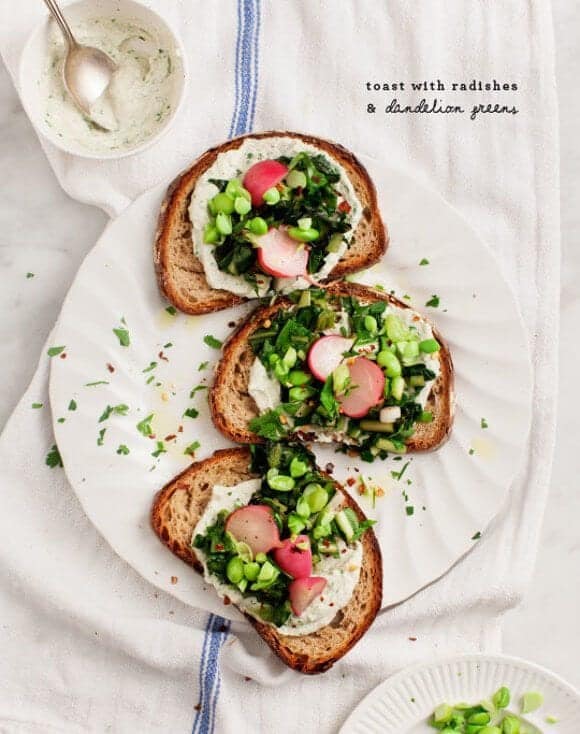 drizzle of olive oil or a pat of butter
¼ cup chopped spring onions or scallions
handful of radishes, sliced in half
½ bunch dandelion greens (6-8 leaves)
¼ cup frozen edamame, thawed and chopped
4-6 slices grainy bread, toasted
pinch of red pepper flakes - optional
salt and pepper
1¼ cup hulled sunflower seeds, soaked & drained*
1 clove garlic
2 tablespoons white wine vinegar
1 tablespoon lemon juice, plus a bit of zest
1 cup water (more as needed)
½ teaspoon salt
handful of fresh herbs - basil, mint or dill (save a few to put on top)
Make the sunflower seed spread by blending sunflower seeds, garlic, vinegar, lemon juice, lemon zest, water and salt until smooth. Add herbs and blend again. Chill until ready to use.
Heat olive oil in a medium skillet over medium-low heat, add onions, radishes salt and pepper, cook for a few minutes, then add a few tablespoons of water, cover and let steam until radishes are tender but still have a bite, about 5 minutes.
When the radishes are nearly done, add the dandelion greens and a big squeeze of lemon. Cook until the greens are just barely wilted. Season with salt and pepper, to taste.
Top toasted bread with sunflower seed spread, radishes, greens, chopped edamame and a pinch of red pepper flakes.
Store sunflower spread in the fridge for up to 4 days (stir if it separates).
Recipe by
Love and Lemons
at https://www.loveandlemons.com/toast-radishes-dandelion-greens/