Lemon Broccoli Pasta + Exciting News!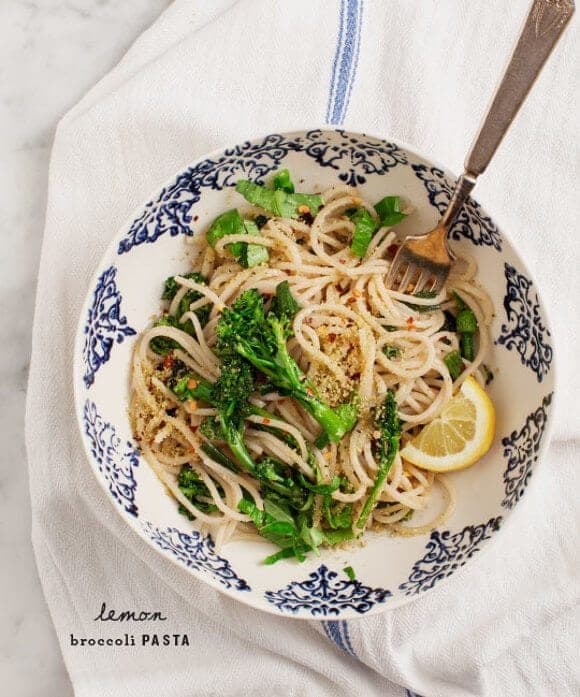 1 tablespoon olive oil
3 garlic scapes, chopped into 1 inch pieces (or 1 clove minced garlic)*
2 cups broccolini or broccoli florets
6 oz. brown rice spaghetti
squeeze of lemon + a bit of lemon zest
hemp seed topping (below), or freshly grated parmesan cheese
a few basil leaves, sliced
a pinch of red chile flakes
salt and pepper
½ cup hemp seeds
2 tablespoons nutritional yeast
2 tablespoons raw sunflower seeds
pinch of salt
Make the hemp seed topping: In a food processor, pulse together hemp seeds, nutritional yeast, sunflower seeds and salt. Set aside
Cook pasta in a large pot of salted boiling water.
Meanwhile, heat a medium skillet over medium heat. Add garlic scapes, broccolini, salt and pepper. Let cook until broccolini is tender but still vibrant green, about 4-5 minutes. Scoop pasta out of the pot and directly into your skillet and toss. Add a squeeze of lemon, stir, remove from heat and serve.
Top pasta bowls with basil leaves, a sprinkle of hemp seed topping (or grated cheese), red chile flakes and a little lemon zest. Taste and season with salt and pepper, as needed.
*If you're using minced garlic instead of garlic scapes, add it after the broccoli so it cooks for less time and doesn't burn.

For the brown rice pasta: I like the Jovial or Tinkyada brands.
Recipe by
Love and Lemons
at https://www.loveandlemons.com/lemon-broccoli-pasta-exciting-news/