Vegan Chocolate Chip Cookies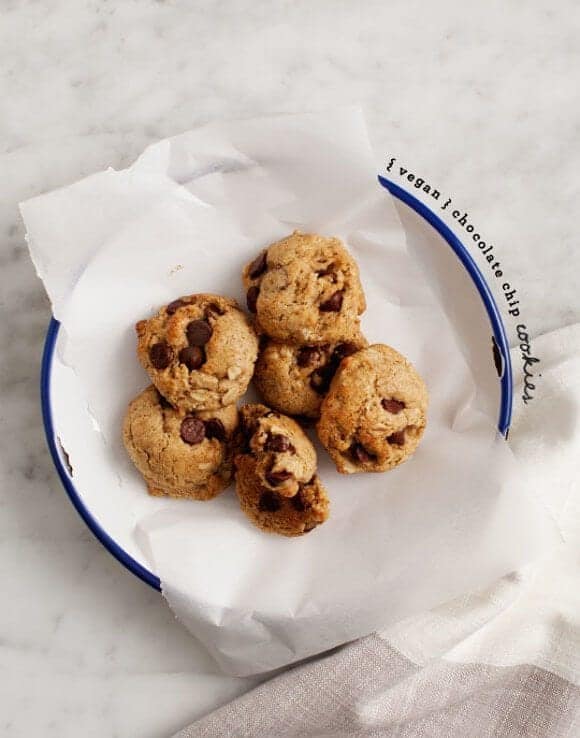 1 tablespoon ground flaxseeds
3 tablespoons warm water
½ cup spelt flour
½ cup all-purpose flour
¼ teaspoon baking soda
¼ teaspoon salt
¼ cup coconut oil, slightly softened
½ cup cane sugar (or regular or brown sugar)
1 teaspoon vanilla
1-2 tablespoons almond milk
¼ cup whole rolled oats
½ cup semisweet chocolate chips
¼ cup chopped walnuts, optional
Preheat oven to 350° degrees and line a baking sheet with parchment paper.
In a large mixing bowl (or the bowl of your stand mixer), combine the flax and water. Stir until combined and let it sit and "gel" for 5 minutes.
In a medium bowl, sift together the flours, baking soda and salt.
To the large mixing bowl, add the coconut oil, sugar, and vanilla. Mix with an electric mixer until smooth and well combined.
Gradually add the dry ingredients, and mix until well incorporated. If the batter is too thick and sticky, add 1 to 2 tablespoons almond milk.
Stir in the oats, chocolate chips, and walnuts, if using.
Use a 1 tablespoon measuring spoon to scoop balls of dough onto your cookie sheet. Bake for 8-11 minutes, or until the cookies are lightly browned on the edges.
Whole wheat can be used in place of the spelt flour.

For a non-vegan version, you can use 1 egg, just skip the flax and water.

Butter can be substituted for coconut oil.

For a richer cookie that flattens out more - increase coconut oil by 2 tablespoons.
Recipe by
Love and Lemons
at https://www.loveandlemons.com/vegan-spelt-cookies/