Millet Cakes with Carrots & Spinach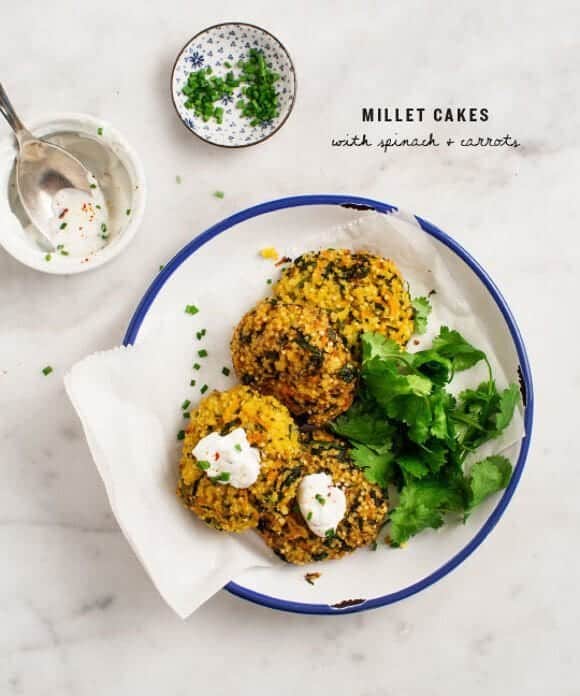 1 cup millet, rinsed
2 cups water
salt and pepper
3 teaspoons olive oil
1 shallot, minced
6 ounces (6 cups) baby spinach, chopped
2 carrots, peeled and shredded
2 garlic cloves, minced
2 teaspoons curry powder
¼ cup plain yogurt (vegan version: ¼ cup + 1 tablespoon almond milk)
1 large egg, lightly beaten (vegan version: ¼ cup ground flaxseed)
2 tablespoons minced cilantro
any sauce or chutney you like - I topped mine with greek yogurt, mixed with salt, pepper, chile flakes and a squeeze of lime, or use this recipe and make a similar vegan version.
Preheat the oven to 350°F and line a large baking sheet with parchment paper.
Combine the millet, water, and ½ teaspoon salt in medium saucepan and bring to a simmer over medium heat. Reduce heat to low, cover, and simmer until grains are tender and liquid is absorbed, 15 to 20 minutes. Turn off the heat, let millet sit, covered, for 10 minutes; transfer to a large bowl.
Heat 1 tablespoon oil in 12-inch nonstick skillet over medium heat until shimmering. Add the shallot and cook until softened, about 3 minutes. Stir in the spinach and carrots and cook until the spinach wilts, about 2 minutes. Stir in the garlic, curry powder, ½ teaspoon salt, and ¼ teaspoon pepper and cook until fragrant, about 30 seconds. Transfer the mixture to the bowl with millet.
Add the yogurt, egg, (or flax + almond milk) and cilantro into the millet mixture and fold until well combined. Use a ⅓ cup measuring cup to scoop the mixture, then form into a ½-inch-thick cake, and place on prepared sheet. Repeat. Refrigerate cakes until chilled and firm, about 30 minutes. (15 minutes for the vegan version).
Drizzle the cakes with olive oil and bake 25-30 minutes or until the edges are crispy and cakes are cooked through.
Recipe by
Love and Lemons
at https://www.loveandlemons.com/millet-cakes/