Valentine's Molten Chocolate Cakes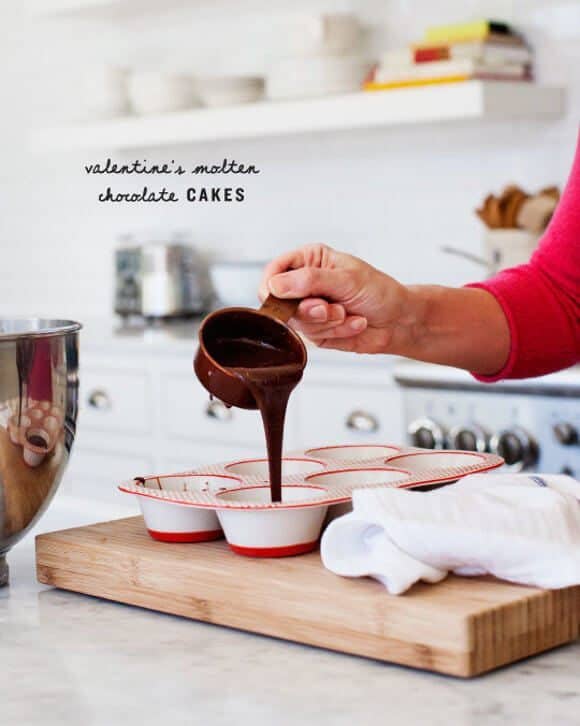 1 stick + 3 tablespoons butter (non-dairy earth balance works fine too)
5 ounces bittersweet chocolate (70% cacao recommended)
3 egg yolks
3 whole eggs
1.5 cups powdered sugar, sifted
½ cup all purpose flour (we've also used spelt)
Preheat oven to 450 degrees F.
Melt the chocolate and butter together in a double boiler over the stove (or place a glass bowl on top of a (smaller) saucepan filled with a little boiling water. Once your chocolate is melted, let it cool to room temp before adding the mixture to the eggs. (Pop it in the fridge for a few minutes if you want).
With an electric mixer, whisk the eggs, then slowly add the sugar, then the chocolate mixture, then gradually add the flour. Mix until smooth.
Pour into a greased muffin tin - filling muffin cups about ¾ of the way full.
Bake for 5-8 minutes or until the middle puffs up but the cake inside is still underdone.
Remove from the oven and place the muffin pan on a cookie sheet. Place another cookie sheet on top. Hold it all together and gently (but quickly) flip it so the muffin tin is now upside down. Carefully lift up the muffin tin, give it a shake and a tap to get the cakes to drop down.
Serve with a scoop of ice cream.
The cakes are best right out of the oven so for Valentine's day we usually just bake 2 and store extra batter in the fridge (for up to 2 days). Adjust cook time for the leftover (chilled) batter accordingly.

If you have a flexible silicone muffin pan - use that - it's the easiest pan to get the cakes to pop out of.
Recipe by
Love and Lemons
at https://www.loveandlemons.com/molten-chocolate-cakes/