saffron couscous & spinach stew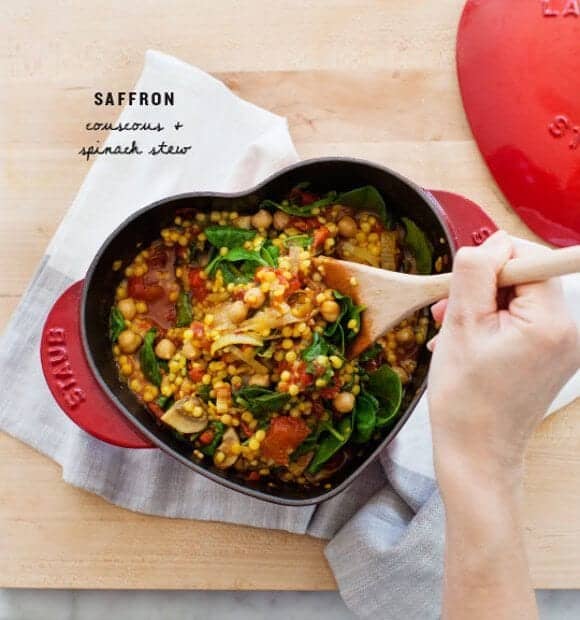 1 tablespoon olive oil
about 1 cup sliced leeks
2 cloves of garlic, minced
1.5 cups chopped mushrooms
splash of sherry vinegar or white wine vinegar
1 14 oz. can tomatoes
(up to) 14 oz. water
a few generous pinches of saffron
½ - 1 teaspoon paprika (smoked or sweet)
½ cup cooked chickpeas, drained
½ cup uncooked Israeli couscous
a few big handfuls of spinach
salt & pepper
Preheat oven to 350 degrees.
In a medium oven-proof pot, sauté leeks with salt and pepper. Once they're translucent, add garlic, mushrooms, and more salt and pepper. Cook until the mushrooms are soft. Add a splash of sherry vinegar and stir.
Add tomatoes, saffron, smoked paprika, chickpeas and couscous. Fill your empty 14 oz. tomato can with water and add most of it to the pan. Stir, cover and bake for 20-25 minutes or until the stew is thick and the couscous is cooked. Remove from the oven and stir in the spinach until it's wilted and incorporated. Taste and adjust seasonings and serve.
You can make this in any oven-safe pot or small dutch oven. If your dish is larger, you might have to adjust the amount of water you use. (This heart cocotte is a little small - about 2 quarts).

Or use a larger dutch oven and double the recipe.
Recipe by
Love and Lemons
at https://www.loveandlemons.com/saffron-couscous-spinach-stew/