Vegan Kale & Artichoke Dip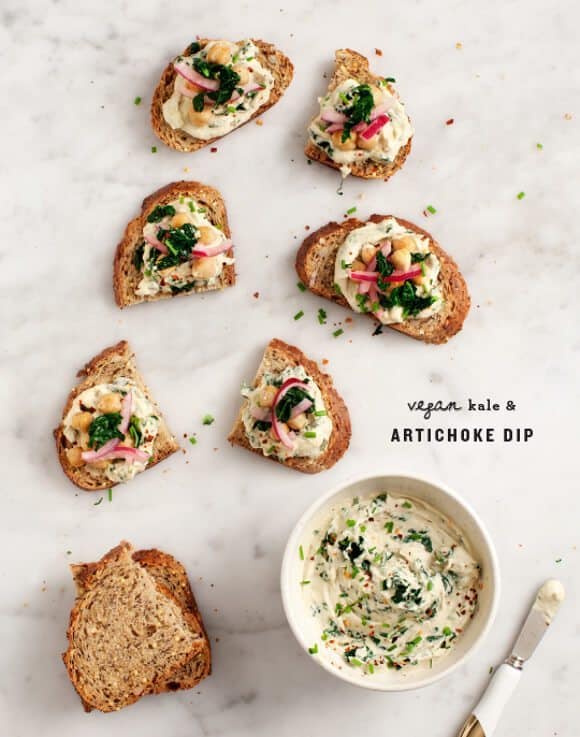 Serves:
about 2 cups of dip
1 can artichoke hearts, drained
½ cup raw sunflower seeds
½ cup water
½ cup (cooked) chickpeas, plus more to put on top
1 clove garlic
1 teaspoon dijon mustard
juice of ½ a small lemon
¼ cup nutritional yeast (not baking yeast, see notes)
2-3 leaves of kale, chopped
tiny bit of olive oil
2 tablespoons chopped chives
salt, pepper
slices of toasted bread
extra chickpeas
optional: quick pickled onions (recipe in this post)
a few pinches of red pepper flakes
Place HALF the artichoke hearts in the blender, coarsely chop the rest and set aside. To the blender add the sunflower seeds, water, chickpeas, garlic, mustard, lemon, nutritional yeast, and a generous amount of salt and pepper. Blend until creamy. Taste and adjust seasonings.
In a small skillet, cook the chopped kale in a little bit of olive oil (with a pinch of salt) until wilted. Set aside.
Transfer dip to a bowl and stir in remaining chopped artichoke hearts, the cooked kale and chives. (Taste again). Chill until ready to serve.
Serve the dip by itself with crackers or toasted pita wedges - or make crostini with a few extra toppings: Add some more olive oil to your skillet and cook the chickpeas until lightly browned. Top each toast with a slather of dip, some extra cooked kale, roasted chickpeas, pickled onions (optional), and a pinch of red pepper flakes.
If you don't have nutritional yeast (and you're not vegan), you could sub 2T pecorino cheese (or more to taste). Or you could skip it altogether - it just helps give the dip a slightly richer cheesy flavor.
Recipe by
Love and Lemons
at https://www.loveandlemons.com/vegan-kale-artichoke-dip/