Pumpkin Hummus Quesadillas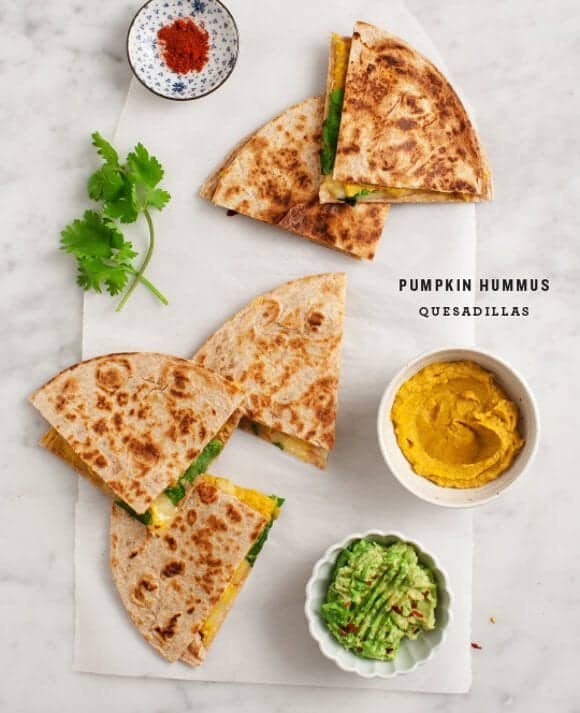 ½ cup pumpkin puree*
1½ cups chickpeas, drained and rinsed
1 teaspoon ground cumin
1 teaspoon ground coriander
½ teaspoon cinnamon
¼ teaspoon garlic powder (or part of a small garlic clove)
Pinch of cayenne pepper
1 teaspoon salt (or to taste)
Freshly ground black pepper
Juice of ½ a lemon
2 tablespoons extra-virgin olive oil
4 large tortillas
Handful of spinach or arugula
½ cup chickpeas
A few handfuls of grated jack cheese
½ avocado
Big squeeze of lemon
Pinch of chile flakes
Salt & pepper
Make the hummus by pulsing the pumpkin puree, chickpeas, garlic, spices, salt and pepper in a food processor. Add the lemon and olive oil and puree until smooth. Taste and adjust seasonings.
Assemble 2 tortillas with a big scoop of hummus, a few chickpeas, a few greens and sprinkle of grated cheese. Place 2 remaining tortillas on top.
Heat a medium skillet to medium heat. Brush the pan with a little bit of oil and cook each quesadilla for few minutes per side or until the tortillas are golden brown and the cheese is melted.
Meanwhile, use the back of a fork to mash together the avocado, lemon, chile flakes, salt and pepper.
Slice quesadillas into 4 wedges each and serve with simple guacamole.
Store extra hummus in the fridge for a few days and slather on sandwiches or eat with chips or toasted pita.
*You can use canned pumpkin, fresh pumpkin, butternut squash or sweet potato mash. (Cook the pumpkin/squash/sweet potato until the flesh is soft. Let cool before blending into hummus).

Make these gluten-free by using gluten-free corn tortillas.

Make these vegan by subbing vegan cheese or omitting the cheese altogether.
Recipe by
Love and Lemons
at https://www.loveandlemons.com/pumpkin-hummus-quesadillas/