roasted chickpea ratatouille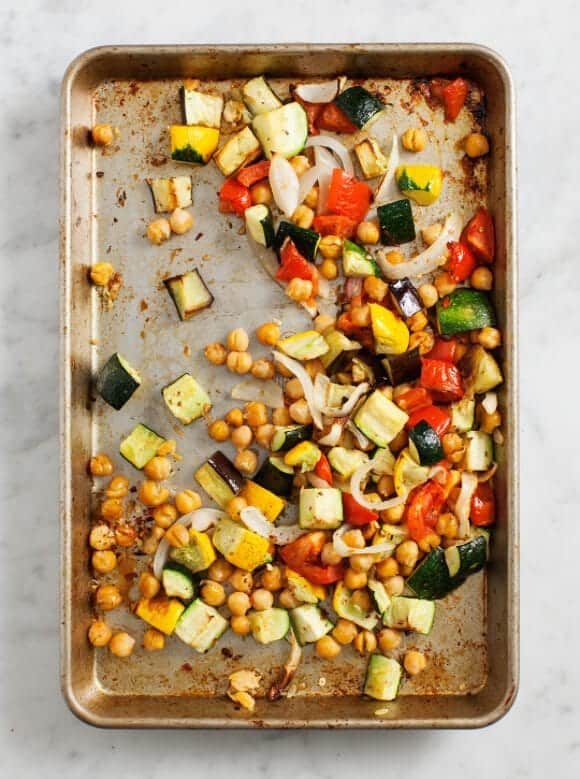 Serves:
serves 2 as a meal (3-ish as a side)
1 small eggplant (about 1.5 cups, cut into 1-inch cubes)
2 roma tomatoes, cut into 1 inch wedges
2 cups chopped zucchini/yellow squash
½ medium yellow onion, sliced into strips
½ cup canned chickpeas, drained & rinsed
1-2 tablespoons olive oil
1 teaspoon dried oregano
1 teaspoon white or red wine vinegar
2 cloves garlic, minced
a few pinches of red pepper flakes
a few leaves of basil, sliced
(optional): cooked millet or crusty bread on the side
Preheat oven to 425.
Arrange the eggplant, tomatoes, squash, onions and chickpeas on a baking sheet (it's ok if it's a little crowded). Drizzle with olive oil, salt, pepper and oregano. Toss to coat, then bake for 25-30 minutes or until lightly golden brown.
Remove from oven. (Still on the baking sheet), drizzle the vinegar over the veggies and toss them with the minced garlic and a few pinches of red pepper flakes. Bake 5-10 minutes longer (or broil 1-2 minutes)… until the veggies are golden brown on the edges but still have somewhat of a bite (you don't want them completely mushy).
Remove from the oven and toss with sliced basil. Taste and adjust seasonings. Drizzle with a little bit more olive oil, if you like. Serve with a grain (or protein) of your choice (millet is pictured).
Recipe by
Love and Lemons
at https://www.loveandlemons.com/roasted-chickpea-ratatouille/