butternut squash & tart cherry quinoa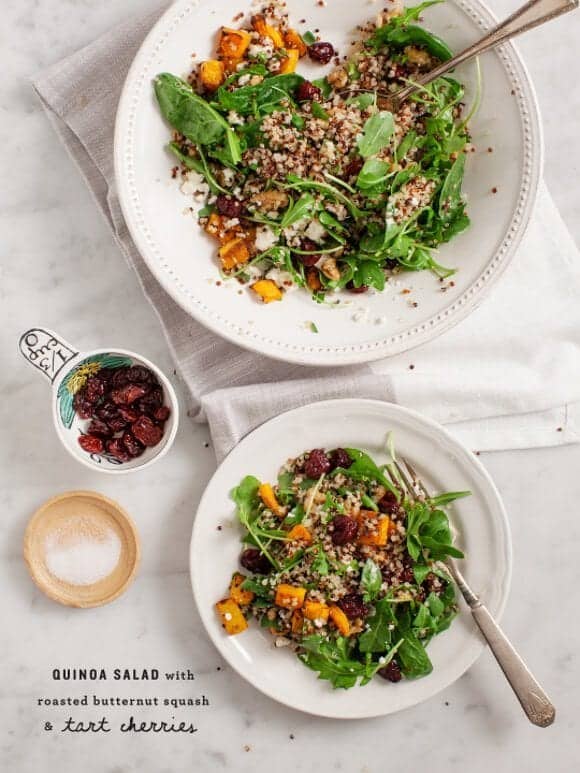 ½ cup uncooked quinoa
1 small butternut squash, peeled, cubed (about 2 cups)
2 big handfuls mixed greens (ie. spinach & arugula)
⅓ cup tart cherries
⅓ cup crumbled feta cheese
¼ cup chopped walnuts
¼ cup chopped chives
2 tablespoons olive oil
a few leaves of fresh sage, chopped
1 tablespoon apple cider vinegar
¼ teaspoon ground cinnamon
1 teaspoon honey (vegan sub: maple syrup)
salt & pepper
Preheat oven to 400 degrees F.
Cook quinoa - rinse ½ cup quinoa then transfer to a small pot and toast the quinoa for a few minutes (basically until it's dry again) over medium heat. Add just over 1 cup of water, cover and bring to a boil then reduce to simmer. Simmer for 15 minutes, then turn heat off and let it sit (covered) for 15 more minutes. Check at some point before the end to make sure it's not burning - if is starting to - stir in a little more water and probably reduce heat. (Note that I usually cook double this amount and save some for later). Set quinoa aside until ready to use.
While your quinoa is cooking, roast your butternut squash. (remove the guts of the butternut squash (save the seeds to toast for later if you want). Peel and slice into 1-inch cubes. Toss with a bit of olive oil, salt & pepper and bake for 25-30 minutes or until golden brown, flipping halfway through.
In a small saucepan, gently heat olive oil (it has a low smoke point so you don't want to heat it too much. If you're concerned about this use grape seed oil instead). Add the sage and stir until fragrant (30 seconds or so - just until the sage is not raw). Turn off heat and add apple cider vinegar, cinnamon, honey, salt & pepper.
Assemble all salad ingredients together and toss with as much dressing as you like. Taste and adjust seasonings.
Recipe by
Love and Lemons
at https://www.loveandlemons.com/butternut-squash-quinoa-salad-w-tart-cherries/