grilled eggplant & pesto sandwiches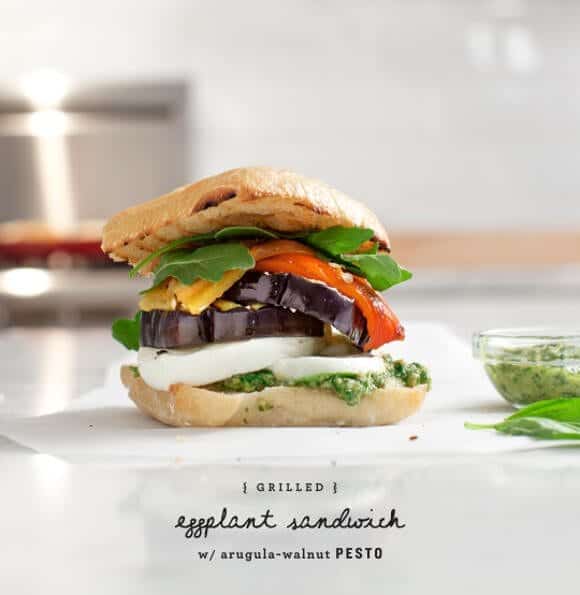 1 medium eggplant, sliced into ¼ inch slices
drizzle of olive oil, for grilling the eggplant
4 ciabatta rolls, toasted if you like
a few roasted peppers (optional)
ball of fresh mozzarella, sliced (skip if vegan)
1 avocado, sliced
⅓ cup toasted walnuts
1 small clove of garlic
big handful of arugula (plus reserve a few sprigs for the sandwiches)
big handful of basil (also reserve a few)
juice of ½ a small lemon
sea salt & freshly ground pepper
¼ - ⅓ cup olive oil
Slice your eggplant and arrange the slices in one layer on a plate. Sprinkle generously with salt and let it sit while you prep everything else. In a few minutes, it'll become watery, dab off the water with a clean towel before you grill the eggplant.
Make your pesto by pulsing together the walnuts and garlic. Then add arugula, basil, lemon, salt & pepper. Pulse again, then add the olive oil and pulse one last time. I made my pesto chunky, add more olive oil if you prefer a smoother pesto. Taste and adjust seasonings.
Preheat a grill or grill pan. Once it's hot, drizzle your eggplant with olive oil and place on a hot grill. Let each side cook for 2-3 minutes or until nice grill marks form.
Assemble sandwiches with pesto, arugula, mozzarella and/or avocado, grilled eggplant, roasted peppers, and a sprig of basil.
Recipe by
Love and Lemons
at https://www.loveandlemons.com/grilled-eggplant-pesto-sandwiches/