soba noodles with shishitos & avocado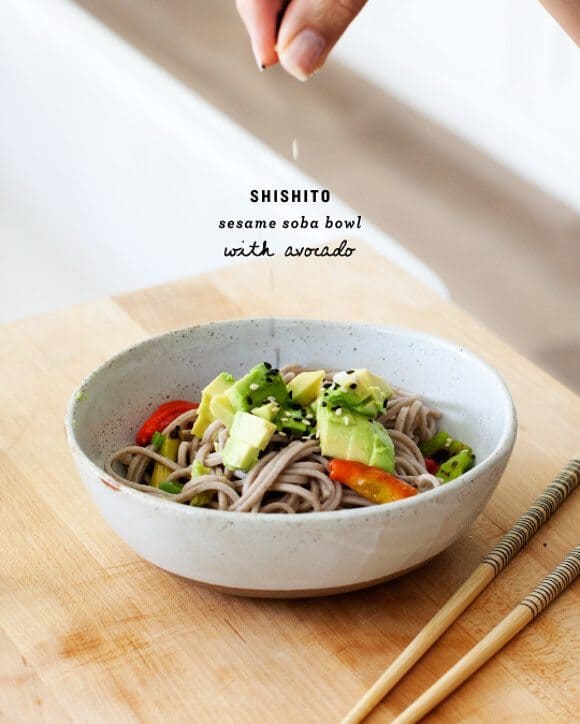 6 ounces soba noodles
a big handful of shishito peppers
2 tablespoons thinly chopped scallions
1 tablespoon toasted sesame oil
1 tablespoon soy sauce or tamari
2 tablespoons rice vinegar
1 small ripe avocado + (optional) squeeze of lime
1 tablespoon sesame seeds
(optional) add a protien: tofu, edamame, salmon, etc
Boil a medium sized pot of (salted) water and preheat a cast iron skillet or broiler.
Cook soba noodles until al dente (about 8 minutes). Drain, shake out excess water and transfer to a medium bowl.
While your soba boils, roast shishito peppers in a (dry) preheated cast iron skillet or under the broiler. Let them roast until black and blistered (usually 8-10 minutes). Remove from heat and let cool slightly. Slice off the stems and coarsely chop the peppers, before tossing them in the bowl with the noodles.
Toss noodles with scallions, chopped shishitos, sesame oil, soy sauce, and rice vinegar. Top with sliced avocado (see tip below) and sesame seeds. Taste and adjust seasonings.
Add tofu or a protein of your choice to make this a bigger meal. Add a squeeze of sriracha to spice it up. Serve warm or at room temp.
The soba that I use is not gluten free. You can find 100% buckwheat soba (that is gluten free). I don't prefer it because I find it to be a bit clumpy.
Recipe by
Love and Lemons
at https://www.loveandlemons.com/soba-noodles-shishito-peppers-avocado/