spicy sweet potato tostadas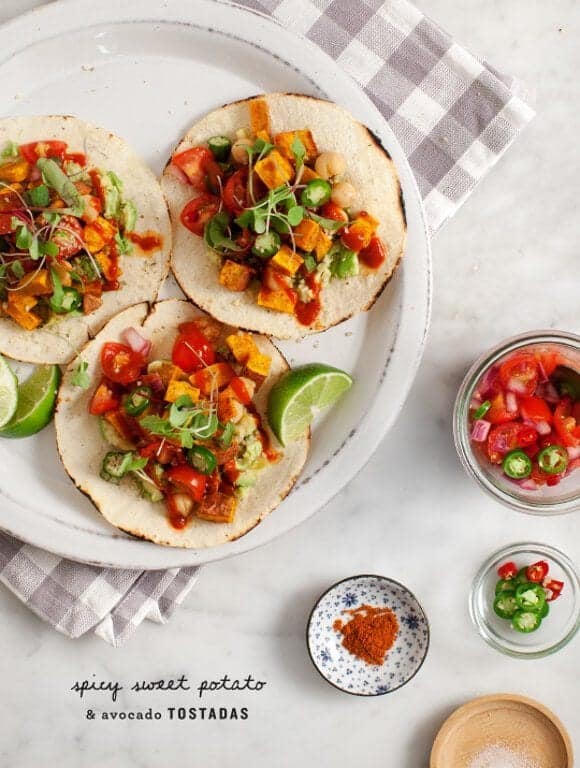 1 cup cherry or grape tomatoes, chopped
½ cup diced red onion
½ clove garlic
1 sliced serrano chile
juice of ½ a juicy lime
a few pinches of salt & pepper
2 cups cubed sweet potatoes
drizzle of olive oil
salt & pepper
½ teaspoon each: McCormick Gourmet cumin & chili powder
4-5 corn (or flour) tortillas
1 ripe avocado
extra lime slices, for serving
½ cup refried beans
a few chickpeas, black beans or another protein
roasted okra
a few sprouts
hot sauce or sriracha
Preheat oven to 400 degrees F.
Mix together salsa ingredients and let chill for at least 20 minutes (while you prep everything else). Before serving, taste and adjust seasonings.
Toss sweet potato cubes with olive oil, salt & pepper, and spread on a baking sheet. Bake for about 20 minutes, or until golden brown. During the last 10 minutes of baking, brush tortillas with olive oil and pop those in the oven until crispy.
(Optional: if you're making okra, drizzle with olive oil, salt & pepper and roast at the same time - for about 15 minutes or until they start to brown).
Remove sweet potatoes from the oven. While they're still warm, toss them with cumin and chile powder.
Assemble tostadas with a spread of refried beans, smashed avocado (use the back of a fork to gently mash a bit onto each tortilla), a squeeze of lime, roasted sweet potatoes, a spoonful of tomato salsa, and any of the other optional toppings.
Recipe by
Love and Lemons
at https://www.loveandlemons.com/spicy-sweet-potato-tostadas/