heirloom tomato sun-cheese toasts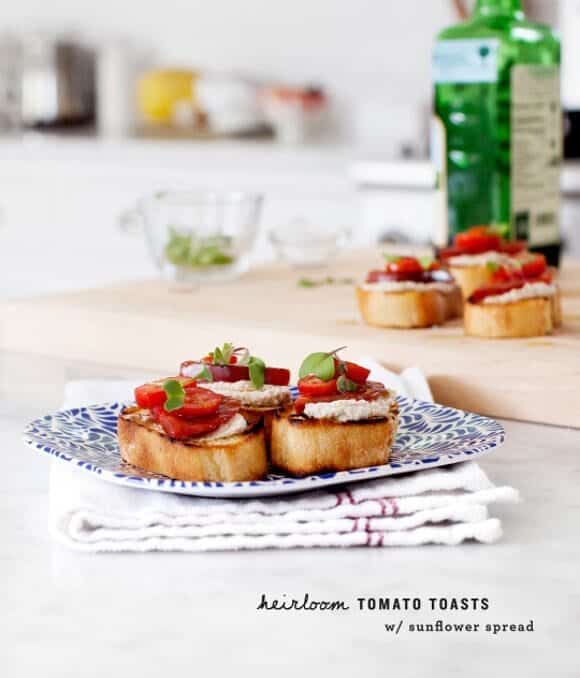 Serves:
about 1.5 cups of sunflower spread, enough for many toasts
1¼ cup hulled sunflower seeds, soaked & drained*
1 clove garlic
2 tablespoons white wine vinegar
1 tablespoon lemon juice, plus a bit of zest
1 cup water (more as needed)
½ teaspoon salt
1 baguette, sliced
mix of heirloom tomatoes
micro sprouts or sliced basil
drizzle of olive oil
salt & pepper, to taste
Blend together the sunflower seeds, garlic, white wine vinegar, lemon juice, lemon zest, water, and salt. Start your blender on slow and add more water if you need to get the blade moving. Taste and adjust seasonings. Chill for 15 minutes, or until ready to use.
Slice baguette & brush slices with olive oil & a bit of salt. Grill each side (or toast them). Top with a slather of sun-cheese, sliced tomatoes and sprouts or sliced basil. Drizzle a little more olive oil on top and add more salt & pepper to taste.
Store extra sun-cheese in the fridge, it'll last at least 2-3 more days. If it starts to separate, just give it a stir.
*I should add that if you are allergic to nuts, make sure the seeds you buy are not processed in a facility that processes nuts. It should say on the label.

If you can't find hulled sunflower seeds (I get mine in the bulk bins and central market), this will still work with un-hulled.

If you have a vitamix, you don't need to soak your seeds. If you're using a regular blender, it'll be easier to blend if you soak them for a few hours or overnight.
Recipe by
Love and Lemons
at https://www.loveandlemons.com/heirloom-tomato-suncheese-toasts/