Lemony Summer Squash Orecchiette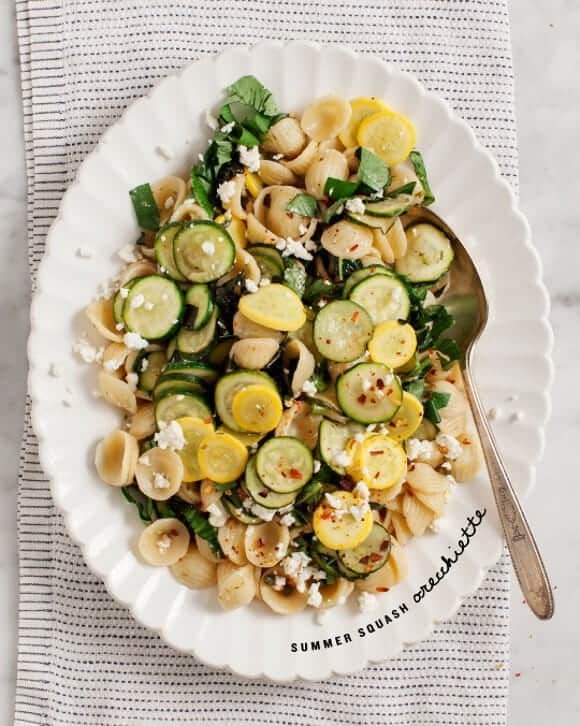 3 small summer squash (or 2 medium)
8 ounces orecchiette pasta
1 tablespoon extra-virgin olive oil, more for drizzling
1 garlic clove, minced
1 teaspoon finely chopped rosemary
2 cups chopped spinach or (or chard or kale)
Juice of ½ lemon, more to taste
⅓ cup feta cheese
2 tablespoons capers
A few pinches red pepper flakes
grated Parmesan cheese, optional
Sea salt & fresh black pepper
Thinly slice squash, about ⅛ inch thick (on a mandoline if you have one). Lay squash slices on a towel and pat dry.
Cook the pasta in a pot of salted boiling water until al dente.
In a large skillet heat the oil over medium-low heat. Add the garlic and rosemary. Stir until fragrant, then add the sliced squash, salt and pepper. Stir, then let the squash cook on each side until lightly browned.
Stir in the lemon juice, then add the spinach and toss. Add the pasta along with a bit of the starchy pasta cooking water.
Stir in feta, capers and red pepper flakes. Season to taste and add Parmesan cheese, more lemon juice, and drizzles of olive oil, as desired.
Vegan option: skip the cheese and serve with dollops of
pesto
.
Recipe by
Love and Lemons
at https://www.loveandlemons.com/lemony-summer-squash-orecchiette/